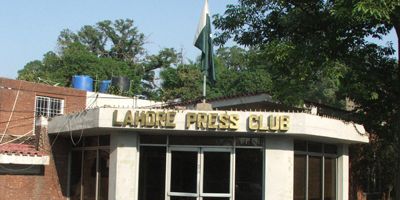 JournalismPakistan.com December 05, 2013
LAHORE: The Lahore Press Club (LPC) has cancelled membership of one journalist and suspended another, allegedly for uploading a page on Facebook criticizing the office-bearers.

Mian Dawood of The Nation had his membership cancelled while Ayaz Chaudhry Assignment Editor at Dunya TV was suspended by the club's governing body. Both claim they were penalized unconstitutionally.

However, club president Arshad Ansari told JournalismPakistan.com there was nothing unconstitutional about the penalties. "The decision was taken in line with the constitution but can be reversed if the two submit an application and apologize for posting the material they did."

He said as the president, he held nothing against any member. "We are one family but everyone has to abide by club rules and regulations."

Last year, Asif Butt, a member of the governing body and Habib Chohan were suspended allegedly for misconduct.

"They were banned by the general council constitutionally and only an extra-ordinary meeting, called by these individuals themselves, and having two third majority can lift their suspension," Ansari said.