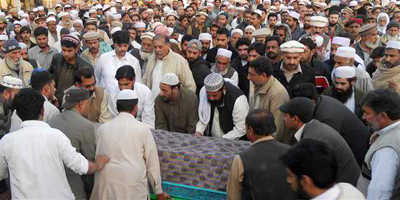 JournalismPakistan.com November 24, 2015


NEW YORK: The Committee to Protect Journalists says journalists in Pakistan, especially in the northwest, are under siege after another journalist was killed this month.
Neo Television reporter Hafeez Ur Rehman was shot dead Sunday (November 23) in Kohat, the second journalist this month to be gunned down in the tribal regions.
Bob Dietz, CPJ's Asia program coordinator said: "If the government in Islamabad cannot bring justice in such cases, the Khyber Pakhtunkhwa authorities must step in to address the impunity with which journalists are killed.
"Journalists are victimized by all sides in Pakistan's internal conflicts and they are desperate to find safe havens from attackers. It is the government's responsibility to come to their aid. Despite all the killings over the years, that has not happened," Dietz said.
Hafeez Ur Rehman was killed while riding a motorcycle. Fazal Naeem, a police spokesman, told Agence France-Presse that Rehman was hit by three bullets. The attackers were also riding a motorcycle when they opened fire, AFP reported.
The motive behind the killing of Rehman, who had been working as a journalist for 12 years is unclear. Local Pakistani media said colleagues were unaware of any threat against the 42-year-old reporter, who was seen as a senior figure in the media community in Kohat. No one has claimed responsibility for Rehman's murder.
In the case of Zaman Mehsud, a print journalist shot dead on November 3 in Tank district, about 217 kilometers from Kohat, the Taliban claimed responsibility, according to reports. CPJ is still investigating to determine if Mehsud's reporting was a motive for the murder.
Pakistan ranks as the seventh most deadliest country for journalists, CPJ data show. At least 62 journalists and media workers have been killed here in relation to their work since 1992. In 19 other cases, CPJ is investigating to determine if the journalists were killed because of their work. The country ranks ninth on CPJ's Global Impunity Index, which spotlights countries where journalists are slain and the killers go free.
Despite pledges from the government of Prime Minister Nawaz Sharif, little progress has been made in investigating the murders or bringing the killers to justice. - CPJ
Photo caption: Relatives, journalists and residents carry the coffin of television journalist Hafeez ur Rehman. - AFP