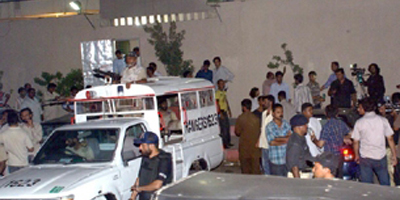 JournalismPakistan.com June 27, 2012
KARACHI: "It was just another work day. The Aaj newsroom was busy, the office was packed as it usually is, people were going about their work… when the first shots rang out," says anchor Fareed Rais about the attack on Aaj TV by four armed men on motorbikes on Monday night.

"There was a moment's silence as people tried to comprehend what was happening. With the realization that the channel's office was under attack from armed men, panic quickly set in," Fareed told Journalism Pakistan.com.

He said people were running in all directions, some hit the floor and others took cover wherever they could. "It was chaotic and terrifying."

"We were pained to know a security guard and another employee of Aaj were injured in the attack. As soon as the gunmen fled, the injured men were rushed to hospital. Thank God they are safe."

He said some parked vehicles belonging to Aaj staff and visitors were also damaged in the attack, which has been claimed by the Tehrik-e-Taliban Pakistan (TTP), a banned terrorist outfit that says it is waging war against 'the enemies of Pakistan'.

"It is surprising that we were the first target of this group," another Aaj worker, who preferred to stay anonymous, said. "The Aaj office is located in Gurumandar, which is a very busy junction. It is not easy to get away and yet these AK-47-totting gunmen did."

A reporter with Business Recorder, an Aaj sister concern, said the attack took place despite a Ranger's mobile stationed a few hundred yards away.

According to the latest information available, the gunmen appeared to have come from the direction of Lasbela and fled in the direction from which they came.

A female employee of Aaj said she thought she was going to die. "There was so much noise; even now my ears are ringing with the sound of gunfire. I am also afraid now because we have now learned the TTP has warned further attacks against the media. Being associated with a media organization is proving to be dangerous."

The TTP has said it would carry out attacks against the media in Pakistan if it continued to show bias against the militant outfit. "We want journalists to be journalists and stay unbiased," a spokesman of the TTP said, warning in an email that 'negative propaganda' against them had to stop.

"If the media does not change its policy then it will have to face the consequences," the email concluded.

Six journalists have been killed in Pakistan so far this year and international media watchdogs say it remains one of the most dangerous places for journalists.