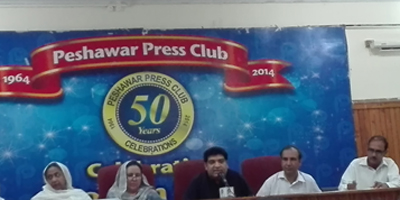 JournalismPakistan.com April 20, 2016


PESHAWAR - Democracy Reporting International launched the "Reporting on Human Rights, Pakistan Media Guide" at the Peshawar Press Club.

Civil Society Working Group and DRI jointly organized the event with an emphasis on providing an increased focus on human rights-related issues in media reporting.

During the launch, the participants were briefed that Pakistan has ratified a number of international human rights treaties, such as International Covenant on Civil and Political Rights (ICCPR) and has committed towards compliance with these treaties.

DRI's media guide highlights that European Union had granted Pakistan the status of Generalized Scheme of Preferences (GSP+) in 2014 and under it, Pakistan has committed to comply with 27 international law treaties.

Explaining these, Muhammad Rafique, Senior Human Rights and Advocacy Expert said that GSP+ can have a two-fold impact on Pakistan. Firstly, it can help improve the economy and sustainable development and secondly, and more importantly, it can help improve human rights and governance in the country as 27 international law treaties provide important and useful guidance on improving human rights and governance.

Explaining the content of the media guide, Shafaq Kiani, DRI's Human Rights Analyst, said that the media guide is intended to be an important resource for journalists and those interested in reporting on human rights issues in Pakistan. The guide provides an overview of the economic implications of the GSP+ status and Pakistan's progress towards its human rights commitments as part of acquiring the status and its economic benefits, she added.