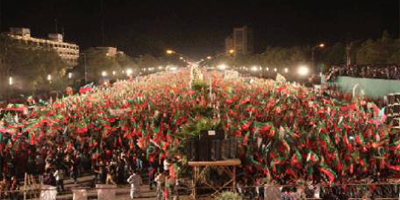 JournalismPakistan.com April 17, 2015
ISLAMABAD: The ruling Pakistan Muslim League-Nawaz (PML-N) government spent an estimated Rs450 million from the national exchequer on running advertisements in the electronic and print media to counter Pakistan Tehreek-i- Insaf and Pakistan Awami Tehreek sit-ins.
The Express Tribune reported Friday the prime minister's office, without observing any rules, directed the finance ministry to release Rs450 million for around 62 projects but spent it on private media campaign.
The popular campaigns ran with public money included: 'Go ka matlab', 'riyasat par dhawa', political stability, 'PTV par hamla', testimonials and 'qaum ki awaz'. These were mainly the packages aired on private television channels to subdue the dharna impact on general public.
The total amount released for the electronic advertisements is Rs428 million. For print media, Rs19 million were released for ads related to attack on PTV, parliament and "curse of sit-in".
The advertisements were released through prime advertising agencies like Midas Communications, Interlink, Adgroup etc.