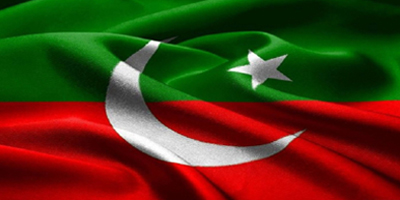 JournalismPakistan.com June 05, 2015
ISLAMABAD: In the eight electronic media talk shows analyzed during April 2015, Pakistan Tehreek- e- Insaaf (PTI) was the political party with the most airtime representation (28 percent), only 8 percent of guests invited to talk shows were women and 'Politics' was the main topic under discussion (46 percent).

According to a Monthly Research Study conducted by Gallup Pakistan Media Research Service in April, majority of the guests in talk shows were politicians (73 percent).

Content analyses of eight popular current events talk shows (Off the Record; Capital Talk; Meray Mutabiq; Sawal Yeh Hai; News Eye; Aapas Ki Baat; Nadeem Malik Live and Tonight with Fareeha) consisting of a total of 118 episodes aired on different cable television networks was conducted for April 2015.

The topics discussed on these shows were distilled into seven broad categories including economy, governance, law, politics, media, security and miscellaneous. Issues that were discussed less frequently, for example sports and socio-cultural subjects, have been included in the miscellaneous category.

On average, three guests appeared per episode for each show which is the same as February and March. While some guests were frequently invited on different talk shows, overall there were 78 unique guests out of a total of 333 guests in the 118 episodes analyzed.

Furthermore, majority of the guests were politicians, followed by experts including professors, defence analysts and senior analysts at 19 percent. Three percent of the guests invited were from miscellaneous occupational categories such as arts, cricket, civil society and bureaucracy. Media personnel (anchors, experts, journalists) also occupied three percent, while religious experts occupied two percent and judiciary member had one percent share of the broadcast participation.

In April the maximum representation amongst political parties was from PTI at 28 percent followed by Muttahida Qaumi Movement (MQM) at 24 percent. Pakistan People's Party (PPP) and Pakistan Muslim League Nawaz (PML-N) both had 16 percent share of the representation on talk shows during April. Members of Jamat- e- Islami were also prominently featured with 9 percent share of the representation.

The most frequently discussed topic falling under the umbrella of Politics was NA- 245 by-elections (43 percent). This was followed by Altaf Hussain Money Laundering and Imran Farooq Murder Case at 11 percent. Another frequently discussed topic was criticism against PTI on re-entering parliament (9 percent). PPP's decline/Zulfiqar Mirza's hostility was discussed 8 percent of the total time.

Politics was followed by Security as the second most frequently discussed topic in talk shows during April. Within Security, the most discussed theme was the Government and Military's Stance on Assisting Saudi Arabia in Yemen Crisis (39 percent). Another frequently mentioned topic was SSP Rao Anwar's Allegations on MQM which was discussed 24 percent of the time under Security. Karachi Operation was discussed 9 percent and Saulat Mirza's Accusations was a topic of discussion 7 percent of the time.

Law formed the third most frequently discussed category. Some of the major themes discussed under Law issues were: Judicial Commission Investigation into 2013 Elections (81 percent), followed by Pending Cyber Crime Bill (12 percent), Army Court's Approval of Suspended Death Penalties (3 percent) and Human Rights Laws (3 percent).

The main topic discussed under the theme of Economy was the Pak- China Economic Corridor (73 percent). Bad Governance in KPK and Sindh each took at 33 percent share under Governance.