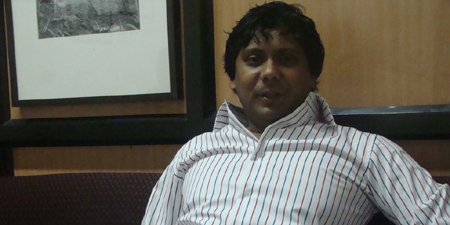 JournalismPakistan.com October 10, 2016


ISLAMABAD – Dawn journalist Cyril Almeida, at the center of a raging controversy for his story that upset the government and the military tweeted Monday his name had been put on Exit Control List.
"I am told and have been informed and have been shown evidence that I am on the Exit Control List," he tweeted early Tuesday.
The front page story - Act against militants or face international isolation, civilians tell military published on October 6, caused a stir promoting Prime Minister Nawaz Sharif to take serious notice Monday and directing that those responsible be identified for stern action.
According to reports the prime minister took notice after the Army Chief Gen, Raheel Sharif called on him at the PM House.
Almeida had reported that "in a blunt, orchestrated and unprecedented warning, the civilian government has informed the military leadership of a growing international isolation of Pakistan and sought consensus on several key actions by the state."
He wrote that ISI DG Gen Rizwan Akhtar along with National Security Adviser Nasser Janjua will travel to each of the four provinces with a message for provincial apex committees and ISI sector commanders. The message: military-led intelligence agencies are not to interfere if law enforcement acts against militant groups that are banned or until now considered off-limits for civilian action. Gen Akhtar's inter-provincial tour has begun with a visit to Lahore.
Meanwhile Dawn said Tuesday the PM office had yet again denied the content of the story and rejected it as fabrication - the first rebuttal and then its revised and stronger version being released on October 6.
The paper quoting the latest statement from the PM office said: following a meeting of top civilian and military leadership on Monday, the participants expressed concern over the publication of a "fabricated news story" in Daily Dawn pertaining to security issues purportedly discussed in a meeting of National Security Committee last week.
The statement said: "the participants were unanimous that the published story was clearly violative of universally acknowledged principles of reporting on National Security issues and has risked the vital state interests through inclusion of inaccurate and misleading contents which had no relevance to actual discussion and facts".
On the other hand, Dawn editor said he would like to clarify and state on the record several things. "First, this newspaper considers it a sacred oath to its readers to pursue its reporting fairly, independently and, above all, accurately. The story that has been rejected by Prime Minister's Office as a fabrication was verified, cross-checked and fact-checked.
"Second, many at the helm of affairs are aware of the senior officials, and participants of the meeting, who were contacted by the newspaper for collecting information, and more than one source confirmed and verified the details.
"Therefore, the elected government and state institutions should refrain from targeting the messenger, and scape-goating the country's most respected newspaper in a malicious campaign."
Image: Cyril Almedia/flickr.com