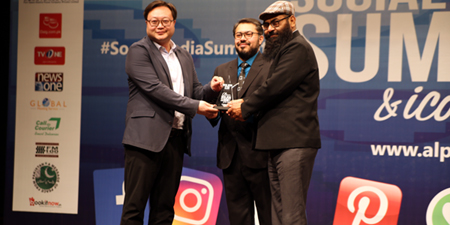 JournalismPakistan.com March 21, 2018


ISLAMABAD - AlphaPro's Social Media Summit held at the Pakistan National Council of Arts (PNCA) discussed and praised the developments and expansions of this form of media.
Over 400 online networking activists, corporate and government representatives, and university students from all over Pakistan talked about the role and impact of social media in Pakistan and forged related strategies.
Awards were presented to prominent organizations and people working for and excelling in their respective digital fields.
AlphaPro, is a prominent advanced media setup administrative organization.
Honorary Chief Guest Lijian Zhao awarded TVOne the ICON Digital Award in recognition of digital media development. Amir Syed, Head of TVOne Digital received the award on behalf of Airwaves Media.
"Over the last few years, social media has globally emerged as one of the most powerful opinion-making tools where the ordinary public has the leverage to make their presence felt, and voice heard. Like rest of the world, social media in Pakistan plays a vital role in shaping ideas and reshaping public opinion," Zhao said.
Managing Director AlphaPro, Adeel Ayub said: "Recognizing the importance of social media, the Social Media Summit aimsat preventing the misuse of this worldwide phenomenon. Also, it provides great learning opportunities for people interested in digital media marketing and to promote networking for the people related to social media.
"During the event, online networking activists and others held discussions and dialogues and discussed critical issues.