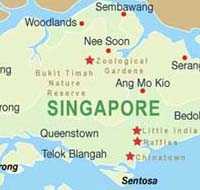 JournalismPakistan.com March 31, 2012
Nanyang Technological University (NTU) and the World Association of Newspapers and News Publishers (WAN-IFRA) have unveiled plans for a new center dedicated to creative innovation, training and research for newsrooms of the future.
Newsplex Asia, which will be operationally ready in September 2012, will be located in NTU's Wee Kim Wee School of Communication and Information (WKWSCI), the only full-fledged communication school in Singapore which has trained students in journalism for the last 20 years. The centre, which is WAN-IFRA's first Newsplex in Asia, spans over 160 square metres of space within the WKWSCI building at NTU's Yunnan Garden campus.
Newsplex Asia will have a prototype newsroom of the future, where new techniques and technologies can be tested and news organizations can come to train. It aims to mirror editorial operations in some of the leading news organizations in the world, where the rapidly changing media landscape is inspiring innovative multimedia newsroom development.