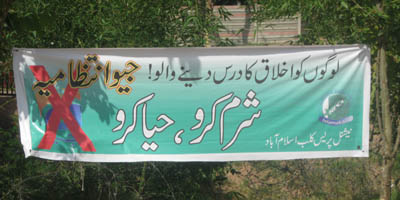 JournalismPakistan.com May 24, 2012
ISLAMABAD: Geo aur jeenay do (Live and let live) is one of Geo Television's most popular slogans but the channel's managers do not seem to practice what they preach, journalists say.

A latest round of sackings at Geo has abruptly left several employees jobless in these difficult economic times. This has angered many journalists, more so the National Press Club in Islamabad.

This banner (in the picture above) has been put up on the club premises giving vent to journalists' feelings. Loosely translated, the message reads: "Shame on you for preaching others morality (and not actually practicing it)."

Geo sacked two reporters and a desk man in Islamabad last week who had each been with the channel for some four years. There were also reports of sackings at the channel's Karachi headquarters.

In April, the management laid off its director programs and four producers from Islamabad centre.

Also in April, 16 staffers at sports channel Geo Super that included an editor, anchors and sub-editors were booted out.

The managers had gone for a major round of downsizing in Karachi earlier in March shutting down the Current Affairs and Creative Departments.

Back in 2010, Geo gave 80 employees the sack.