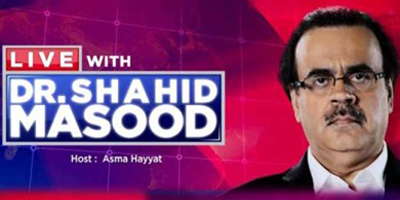 JournalismPakistan.com August 11, 2016


ISLAMABAD – The Council of Complaints of PEMRA has recommended banning popular current affairs program Live with Dr Shahid Masood on ARY News for 45 days.
The decision to punish the channel was taken after allegations were leveled against the Chief Justice of Sindh High Court in the program telecast on June 22. PEMRA noted this was a violation of its laws.
The Council held a hearing in Karachi and after listening to ARY Television's point of view ruled the program be banned from August 15 to September 28.
During the period of the ban, Dr. Masood will not be allowed to appear either as an analyst or anchor on ARY. He will also not be permitted to feature as a guest in any program or any news bulletin live or recorded.
After the expiry of the ban, ARY News have been ordered to air an apology in the same program.
Related posts from JournalismPakistan.com Archives:
Dr. Shahid Masood withdraws complaint against private TV channels
Finance Minister seeks action against Shahid Masood
PEMRA acts on Dr. Shahid Masood's complaint
Dr Shahid Masood returns to ARY