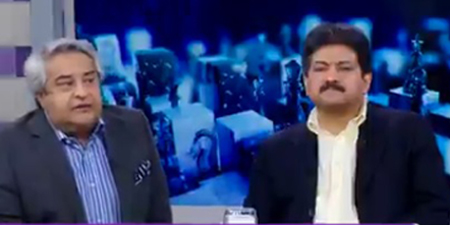 JournalismPakistan.com October 28, 2019


ISLAMABAD — Leading television presenters have condemned a PEMRA ban on anchors and journalists from appearing in each other's shows.
In a statement, they termed the decision as "dictatorial" and vowed to resist any move to gag the media.
"It is not PEMRA's jurisdiction to decide who should be guest speakers and commentators on television shows," said the statement that has names of presenters Hamid Mir, Mohammad Malick, Kashif Abbasi, Arshad Sharif, Owais Tohid and others.
"The culmination of this logic would be that the State decides who can speak and on what issue. The State and its institutions have no business invalidating journalists' opinions and certifying who qualifies as an analyst."
The presenters saw the move as an attempt to curb fair criticism and dissent. "We hold the Tehreek-i-Insaf government led by Prime Minister Imran Khan responsible."
"We have ample material of increasing censorship, with daily instructions of what can and cannot be published or aired; who can and cannot speak. We will resist and fight back."
The anchors called for an immediate withdrawal of PEMRA notification and an end to growing harassment and willful press advice to journalists.
Anchor Mohammad Malick said the media community must take a firm stand against the PEMRA order. "What a farce, this does not happen anywhere in the world, and surely we must not allow it here as well," he tweeted.