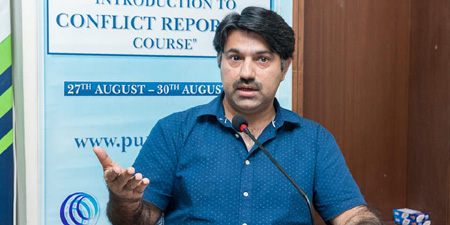 JournalismPakistan.com November 01, 2019


ISLAMABAD — Prominent journalist and media analyst, Adnan Rehmat is dismayed over the closure of monthly Herald and, more recently, Newsline.
He told JournalismPakistan.com on Friday that someone somewhere was destroying professional journalism with a vengeance.
"With editors like Farah Zia, Badar Alam, and now Rehana Hakim, also no longer managing the finest of my generation's journalism stations, the golden age of Pakistan's media is over," he lamented.
"While this 'phasing out' of print media in Pakistan mirrors a similar decline in hard print current affairs journalism in most parts of the globe as audiences go online, it is nonetheless heartbreaking that serious, bold print journalism in English language in Pakistan remained a product consumed mostly by the moneyed classes. Their surplus income and consumerism acknowledged by advertisers of this brand of journalism should not have made it an unviable venture. This means it's probably a lack of appreciation for the effort required to produce journalism that, in big part, has also played a role in its demise."
Photo: Adnan Rehmat - Facebook