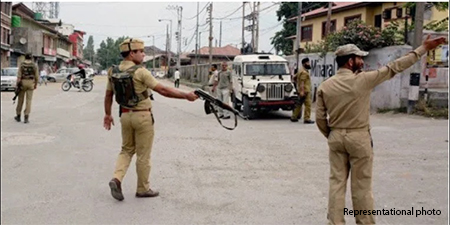 JournalismPakistan.com August 17, 2021


SRINAGAR—Several journalists based in Indian held Jammu & Kashmir have accused local police of mistreating them.
The journalists were reporting on the Muharram processions at Jehangir Chowk, Srinagar, on Tuesday afternoon when police from Shergarhi Police Station led by SHO Aftab Ahmad started beating them up.
Various videos and pictures shared by journalists show Srinagar police using force against the reporters.
Sajad Hameed, a photojournalist with the Free Press Journal, was one of the reporters at the receiving end of the violence.
Commenting on the incident, Hameed said, "The police were abusing Hindustan Times journalist Waseem Andrabi. I asked them to not abuse my fellow journalist but they started beating me up instead. They hit me on the leg and broke the lens of my camera. I am in a lot of pain and I have suffered a huge loss."
Andrabi told a local news agency—Kashmir News Observer (KNO)—that the policemen "from Shergarhi Police Station led by SHO Aftab Ahmad, beat them to the pulp for no reasons."
"We were even told that (an) FIR will be registered against us," Andrabi said.
Taking note of the incident, former Chief Minister Omar Abdullah said on Twitter, "He's an independent photo-journalist. His camera is his livelihood. The administration owes it to Sajad to compensate him for the loss he has suffered while working."
"Media is spending hours debating the human tragedy and unfolding crisis in Afghanistan but will they speak up for their own community in Kashmir who were beaten to pulp today by security forces for doing their job," Peoples Democratic Party president Mehbooba Mufti tweeted.