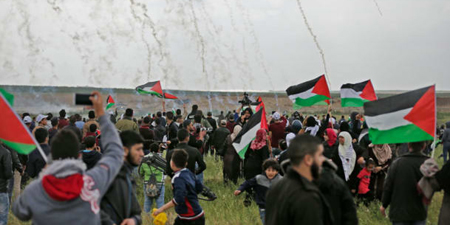 JournalismPakistan.com April 26, 2018


WASHINGTON - Ahmed Abu Hussein, a Palestinian photographer for the Gaza-based Voice of the People Radio, died on Wednesday from bullet wounds to his abdomen sustained on April 13 while he was covering protests in the northern Gazan city of Jabalia, according to news reports citing Gazan Health Ministry officials.
Hussein is the second journalist to die from injuries sustained while covering protests in Gaza that began on March 30, according to CPJ research.
"Protective gear that clearly indicates individuals are members of the press should afford them extra protection - not make them targets," said CPJ Middle East and North Africa Program Coordinator Sherif Mansour. "The death of Ahmed Abu Hussein underscores the need for Israeli authorities to urgently scrutinize its policies toward journalists covering protests and take immediate, effective action."
Yaser Murtaja, a photojournalist and cameraperson for the Gaza-based media production company Ain Media, was injured when a live round hit him while he was covering protests in the area east of Khan Younis on April 6 and died the next day from injuries, CPJ documented.
Both Hussein and Murtaja were wearing protective gear marked as PRESS at the time they were shot. CPJ in a letter April 19 called on Israeli Prime Minister Benjamin Netanyahu to review the Israel Defense Forces (IDF) policy on mass protests and the press and to ensure that the shooting of journalists in Gaza is quickly and thoroughly investigated. – A CPJ statement