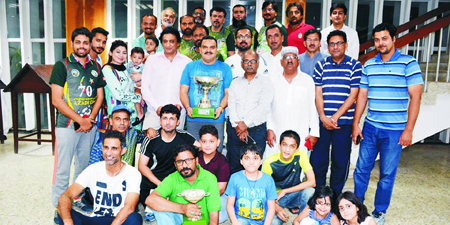 JournalismPakistan.com August 15, 2017 Mohsin Ali



ISLAMABAD – Rawalpindi Islamabad Sports Journalists Association (RISJA) beat Pakistan Sports Board (PSB) on the spin of a coin in a friendly flood-lit cricket match at Jinnah Stadium to mark Independence Day.
Heavy rain prevented any play. The teams waited for about two hours for the rain to stop, but there was no let-up.
Mohsin Ali led RISJA while Agha Amjadullah captained PSB XI.
RISJA Unification Committee Chairman Abdul Mohi Shah along with members Muhammad Faheem Anwar Khan, Shahryar Khan, Aamir Bashir, Afzal Javed and others were present on the occasion.
Mohi Shah thanked PSB Director General Dr. Akhtar Nawaz Ganjera for having such wonderful arrangements made for the match. He said the sports journalists and PSB were like a family.
Dr. Ganjera said PSB was like second home for sports journalists and the main aim of conducting different sports activities on August 14 was to show love and respect for the motherland.
Mohsin Ali thanked Dr. Ganjera, Deputy Director General (Facilities) Agha Amjedullah, Assistant Director (Hostels) Malik Imtiaz Hussian and the entire PSB staff for making great arrangements.
He said winning or losing did not matter, but it was the occasion that was important.