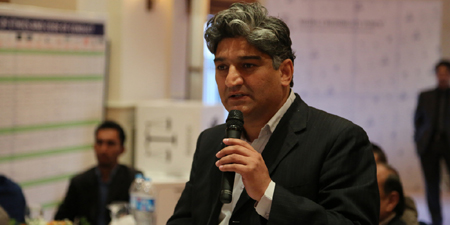 JournalismPakistan.com March 08, 2018


ISLAMABAD - Matiullah Jan, host of the program Apna Apna Gareban on Waqt TV, on Thursday tweeted that on the orders of Ombudsperson Kashmala Tariq, he and his team were "attacked and harassed" and kept in illegal detention for an hour.
The tweet said Kashmala did not like the questions "and ordered her staff to detain us and confiscate Video."
Kashmala was appointed the federal ombudsperson on protection against harassment of women at the workplace last month.
Rameeza Majid Nizami, the CEO of Nawa-i-Waqt media group, uploaded a video with her tweet in which the staff of the ombudsperson can be seen physically and violently trying to detain Matiullah and his team. "Footage of @Matiullahjan919 and @Waqtnewstv team being forced back into Ms. Kashmala Tariq's office, as they try to leave. The police, as you can see, seems rather helpless. I think they have been restrained by Ms. Kashmala's staff along with our team."
In another tweet, Ms. Nizami said: "Ms. Kashmala Tariq ordered her staff to take team's telephones, camera equipment, and footage of the interview. @Matiullahjan919 took the footage and kept it with him. He was punched, his jacket was torn, and he and the @Waqtnewstv team are being physically restrained in F8."
Continuing to tweet, Ms. Nizami said: Ms. Kashmala Tariq was invited to even review the interview, and to see if she found any content objectionable. Yet, she ordered that the team "will not leave with the footage". On refusal to hand over video, she ordered her staff to attack our team and forcefully take the footage."
"This is treatment journalists get if someone in a position of power doesn't like your questions. Even if like Ms. Kashmala Tariq, they are appointed on a human rights platform. Fed Ombudsperson against Harassment of Women in Workplace ordered her staff to hit, restrain journalists," Ms. Nizami commented.
She also uploaded an old video of Kashmala Tariq when she lost temper when asked by then Dawnews TV reporter Azaz Syed about embezzlement of Rs850,000. Kashmala can be heard threatening to break the camera and also asking her guard get hold of the cameraman.
Syed was one of the first journalists to condemn the incident at the ombudsperson's office. "We condemn attack on @Matiullahjan919 by PML.N nominee for Women Ombudsman Kashmala Tariq and her staff."
In another tweet, he said: "All journalists must reach and rescue @Matiullahjan919 at women harassment Commission, F-8 Katchehry."
Photo courtesy: Puruesh Chaudhary