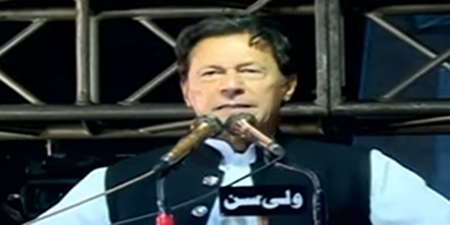 JournalismPakistan.com April 22, 2022


ISLAMABAD—Former ruling party PTI has complained that mainstream media is not giving due coverage to PTI meetings and rallies.
PTI chief and former Prime Minister Imran Khan has shown anger that mainstream media is blacking him out. This is because the 'mafia' has joined hands with the owners of media houses, German media DW Urdu reported.
Speaking on Twitter, Khan told his party workers and the general public that 95 percent of the media was against his government and style of politics. He claimed that the media had a lot of freedom during his term. His government faced criticism and propaganda, and the media was behind spreading fake news.
The ousted PM further claimed that three months ago he came to know that some journalists and anchors were being "offered from outside to campaign against his government".
Journalist organizations have reacted strongly to his claims. Pakistan Federal Union of Journalists (PFUJ) has termed his allegations ridiculous and demanded that he should reveal the names of journalists so that PFUJ could take action against them.
However, according to DW, some analysts believe that it is a fact that Pakistan Television (PTV) did not pay much attention to the recent PTI rallies in particular. Still, the private media is providing ample coverage to PTI.