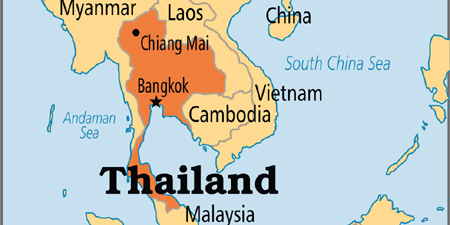 JournalismPakistan.com August 15, 2017


The International Federation of Journalists (IFJ) and the National Union of Journalists, Thailand (NUJT) have expressed deep concern over the misuse of sedition laws to silence journalists.
The IFJ called on the Royal Thai Police to drop any case against journalist Pravit Rojanaphruk.
The prominent reporter and columnist at the news website Khaosod English (Fresh news) was officially informed on August 8 by the Royal Thai Police's Technology Crime Suppression Division that he faces charges of sedition, under article 116 of Thailand's Criminal Code, and "disseminating false information online", under the Computer Crimes Act.
Pravit, a vocal critic of the military regime that came to power in Thailand in 2014 after a coup that overthrew an elected government, has been targeted for his critical writings and campaigns for press freedom. From physical intimidation, illegal detention and travel sanctions to threats to freeze his bank accounts, there have been several attempts to intimidate and silence the journalist.
The first charges of sedition against Pravit were filed following his Facebook posts in February 2015 criticizing the Constitution drafted by the military. Sedition charges were again slapped following his critical social media posts about the trial of Prime Minister Yingluck Shinawatra, whose government was toppled by the military coup.
The take-over by the military in Thailand has been accompanied by a sharp decline in media freedom in the country. Measures to control the media include orders that prohibit reporting that could "create confusion, instigate unrest, or deepen divisions among people" or could be interpreted as "malicious" or "misleading."
Prime Minister Prayuth Chan-ocha has passed an order that allows the state broadcasting commission to close down media outlets on grounds of "national security", without the right of appeal.
Amidst the growing restrictions and atmosphere of fear, the NUJT expressed serious concern over the charges of sedition against Pravit. It also expressed concern over the August 9 charge against Nattaporn Veeranant, a reporter with the Isranews Agency, for "entering private property without permission". Nattaporn was carrying out his journalistic duty of gathering information about an apartment in Bangkok that allegedly belongs to the family of a senior police officer currently under investigation for corruption.
The IFJ said: "The charges against Pravit Rojanaphruk and Nattaporn Veeranant must be dropped forthwith. The regime in Thailand must desist from misusing legislation to muzzle freedom of expression in the country. It is only when dissent and open debate is not penalized that the steady deterioration in media freedom can stop." – IFJ media release/Image courtesy: operationworld.org