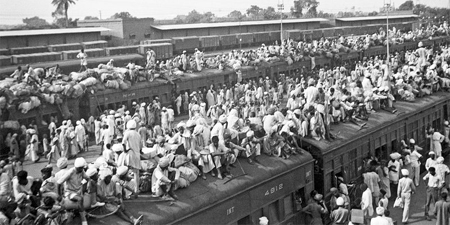 JournalismPakistan.com August 01, 2017


To mark the 70th anniversary of the Partition of India, India's independence from the British Raj and the creation of an independent Pakistan, the BBC's international news services – BBC World Service, BBC World News Television and the website bbc.com/news – present a season of special features and programs.
According to a press release, using timelines, memoirs and testimonies, BBC World Service reports in English, Bangla, Hindi, Urdu and other languages on the reasons and events that led to Partition, and how, once the borders were drawn, millions were forced to migrate, hundreds of thousands lost their lives, and human relations and identities altered forever. In live broadcasts, the BBC also connects people in India and Pakistan to celebrate the things that unite the two nations.
A timeline featuring rare archive photos, video and audio documents, explains the events that led to Partition. An innovative animation about Sir Cyril Radcliffe - the man responsible for drawing the borders on behalf of the British Raj – aims to explain why he drew the line as he did, causing one of the biggest upheavals in the history of mankind.
There are also personal stories of loss – of loved ones, of identities, of homes and belongings. A dramatic animation from BBC Hindi tells a heartbreaking love story – one of so many at a time when, because of conflict and uncertainty or because of their religion, people were forced to part.
Among millions across the subcontinent, whose families were uprooted in the wake of Partition, are the Indian politician, L K Advani; Pakistan's former prime minister, Nawaz Sharif; Indian actors, Dilip Kumar and Raj Kapoor. In a video series filmed earlier this summer, the BBC takes a look at what happened to their homes and how their old neighbors remember their families.
In the story of a man in India and a woman in Pakistan - both of whom, due to stringent visa rules, haven't been able to visit their ancestral homes on the other side of the border - the BBC locates their old houses. As they finally see their old homes via Skype, the ensuing moments of recognition prove emotional.
The season also celebrates the things that unite India and Pakistan, explores the countries' common history and culture, and their shared aspirations. The BBC's Divya Arya in Lucknow and Shumaila Jaffery in Rawalpindi will connect, via a satellite link, two schools in India and Pakistan, to look at the way the shared history is taught in the two countries. The aim of another live event, co-hosted by the BBC's Rajesh Joshi in Delhi and Wusat Ullah Khan in Karachi, is to bring together the two countries' young poets and musicians so they can share their idea of peaceful and prosperous India and Pakistan. Both events will be broadcast as Facebook Lives and will be packaged for TV and radio audiences.
A series of high-profile interviews on BBC Urdu will focus on Pakistan's state of affairs and prospects as the country celebrates 70 years of independence. Among the interviewees will be former President of Pakistan, Gen. Pervez Musharraf; Head of Pakistan's Muttahida Quami Movement (MQM), Dr Farooq Sattar; and Head of Jamat-e-Islami party, Siraj ul Haq.
BBC World Service English marks the anniversary of Partition with a selection of documentaries. In The Children of Partition, Mark Tully travels through India from north to south in search of the echoes of Partition among successive generations of Indians. He examines the legacy of Partition, comparing contemporary memories of the events of August 1947 with the personal and political tensions today on both national and international stages.
In two-part series, Pakistan, Partition and the Present, Shahzeb Jillani explores Pakistan's uneasy relationship with its violent history and asks if the Pakistan of today is a country its founder, Mohammed Ali Jinnah, envisioned. In Partition Voices – also a two-part series – Kavita Puri hears remarkable testimonies from British Asians and colonial British who witnessed this tumultuous event firsthand and even took part in it. Museum of Lost Objects – two programs which explored some of the artifacts and landmarks caught up in the events around 1947 - aired on the BBC World Service English in July and are now available as podcasts and online bbc.com/worldserviceradio.
The BBC's international TV news channel, BBC World News, will bring live coverage of the anniversary-related events in India and Pakistan, as well as special reports, interviews and explainers, and will air the Newsnight edition dedicated to the anniversary. A special index, Partition – 70 years on, on the BBC's international news website, BBC.com, explains the bigger picture and focuses on personal stories to show how the events of 70 years ago still have an impact today.
Image courtesy: tackk.com