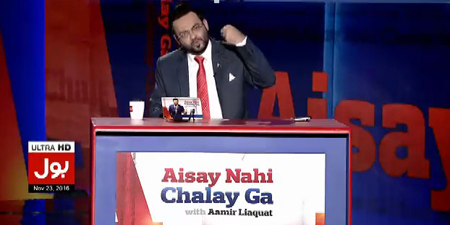 JournalismPakistan.com February 04, 2017


ISLAMABAD – Aamir Liaquat, host of BOL News program Aisay Nahi Chalay Ga continued his scathing attacks on bitter rival Geo Friday exposing what goes on within the news organization and the differences between its journalists.
Much to the chagrin of journalists targeted in the show, the host also openly questioned Geo-Jang Group head Mir Shakilur Rehman on a number of issues, without actually naming him.
After a PEMRA ban on Liaquat and his program that was quickly overturned by the Sindh High Court, he appeared with all guns blazing Friday, starting off by discussing celebrations at the group following its legal victory against ARY.
He called on the boss of what he says is the Neela Peela (Blue and Yellow) channel (Geo) to face cases pending in Pakistani courts instead of celebrating what was achieved in distant Britain.
The Jang Group ran massive headlines and stories Friday in its publications announcing the court's decision and that of British media regulator Ofcom which shut down all six of ARY channels there.
ARY had run 24 programs in UK, targeting Mir Shakil Rehman, found to be seriously defamatory. The court ruled ARY pay £3 million to Rehman in damages and costs.
Liaquat aired clips of protests being held against Geo for being anti-state and committing blasphemy, and urged Rehman to address these issues at home.
Moving on, he showed clips of former Group Editor of The News, Shaheen Sebhai, who said there was not much balanced journalism at Jang Group. He also revealed the practice of changes being made to the newspaper's content after the "editors had gone home."
Later in the show, Liaquat focused on Ansar Abbasi, Editor Investigation at The News, Syed Talat Hussain whom he called 'Naya Baba' and Najam Sethi (Chiri Baba) - all speaking against one another in some old clips aired during the program.
These showed Talat revealing Sethi's famed 'chiriya' (birdie) was property tycoon Malik Riaz while Sethi in turn accusing him of reporting for a foreign organization that is a front of CIA.
Sethi and Talat have filed complaints with regulator PEMRA against Liaquat and his program for hate speech and incitement to violence.
On January 26 PEMRA briefly banned Aisay Nahi Chalay Ga before the Sindh High Court overturned it. BOL went ahead and aired the program the day the ban was imposed, prompting the regulator to issue a show cause notice to the channel.