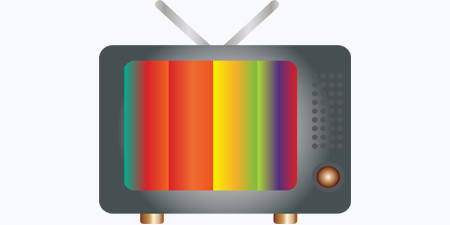 JournalismPakistan.com September 13, 2019 Steve Manuel



Watching the local news channels these days is turning out to be an exercise in extreme restraint. At the forefront are four main factors to blame, and each of them become so overwhelming that one would instead turn off the television than suffer some mental or nervous breakdown.
Excessive repetition is at the very top of my four peeves, followed by the frequent butchering of the Urdu language. The usage of foreign words, specifically Hindi, comes third while the extreme usage of meaningless, insensitive animation bookends my displeasure.
All the above have been getting under my skin for a while, so I'm going to break down the issues identified to make it easier for readers to understand my rant.
Repetition: Let's start with the excessive use of reports and packages that contain looped footage. In other words, repetition within repetition. Given that there can indeed be slow news days, but that doesn't mean that these channels have to bore their viewers to death by broadcasting the same news reports hourly for the next 12 hours and that too in their original form.
It takes only a few minutes and a little initiative to change those flogged-to-death news reports into a reasonably bearable OOV/Voice Overs lasting 20 to 30 seconds. But laziness, lack of confidence and, sometimes, incompetence gets in the way.
With the continued state of the report and same place usage in the hourly bulletin, the viewer can be forgiven for thinking that he or she is trapped in a time warp.
The usage of looped footage makes this specific malady even worse. It is the job of the cameraperson to produce plenty of useable footage, including relief footage, cutaways, etc. It is also the job of the producer to ensure the report stays tight, i.e. is well written, has good unrepeated footage, and is reasonably newsworthy to have life-lasting several hours.
So obviously there is a need for unclouded decision making on the part of the producer/director to ensure the bulletin does not lose its sharpness and newsworthiness. Repetition usually means both those gents are sitting with their thumbs up where the sun don't shine, drinking tea and shooting the breeze with their office cronies.
The run-down is not sacred, nor are its contents. Both can be changed.
It simply boggles the mind that there are so many options to make the bulletin different from what it was the hour before, and yet nobody moves a finger.
Butchering Urdu: As the former head of the current affairs/news desk of two television channels, I'm dismayed by the caliber of the reporters, newscasters and anchors and their constant mangling of the Urdu language.
Now, I'm not a doyen of Urdu, nor do I pretend to be one, English being my forte followed by Punjabi as the language I feel most comfortable with. In other words, I speak Urdu with a decidedly 'tuggah' accent. I will submit, however, that over the years my Urdu has gotten exponentially better. Nonetheless, this does not make me an expert.
In the 31 years of married life, my wife Naila, whose Urdu is impeccable, has managed to tame my "tuggah-ness". Because of this long-term ongoing education, I'm now better equipped to understand the nuances of better spoken/delivered Urdu.
I have come to love the language. It is courteous, civilized, classy, stylish, has great depth, and is wonderfully expressive.
Therefore, when I hear reporters, anchors, newscasters pronounce a simple word like "behtereen" as "Bhethreen" it absolutely gets my goat. Of course, there are many other words that come to mind, but this is the one that bugs me. Also, the inability to pronounce 'khuh' from the back of the throat and to give it a decidedly anglicized 'khh' is becoming more and more common.
I have also noticed reporters and anchors pronouncing a 'zuh' sound like a 'juh'. For example, zubaan being pronounced as jubaan. Give me a break!
The biggest culprits of such butchering come, unsurprisingly, from those that take great pride in their ability to speak Urdu…reporters, etc. based in Karachi.
Foreign words and mannerisms: The above observations act as a bridge to my next peeve…the constant use/misuse of foreign words by reporters and anchors as well mannerisms that are decidedly un-Pakistani.
On any given day, put on the news, and you will invariably come across a reporter/anchor who is trying to be cute by using words that don't fit. There are those who have a terrible time trying to use words in English or technical terms in English. Their struggle is almost painful to watch.
Stop! Don't do it.
When Urdu is so rich in expression, bloody well use it. Flaunt it. Be proud of it. Find an alternative that is both comfortable and practical and use it. If at all an English or foreign language word is used to shore up a sentence or explain it better, then for God's sake it is the job of the producer/director/news head to ensure that word is pronounced correctly. Don't destroy it and become a laughing stock at the same time.
But even that I'm ready to forgive and overlook, painful and embarrassing as it may be.
What I absolutely cannot make excuses for or condone is the excessive usage of Hindi words and expressions that have steadily crept into reports, packages, and even OOV/Voice-overs.
How degrading is that?
After 70 years plus of independence, this newfound urge to suddenly fall back on that what our forefathers fought too hard to get away from, is unforgiveable, incomprehensible. It is an insult to them and all they stood for.
What compounds this specific malady further is that a lot of the anchors, newscasters, and reporters have started fashioning their delivery style on the pattern of their Indian counterparts, shouting hysterically, being overdramatic and stretching out words while prancing and jumping about the place as if they'd just stepped on a live electric wire. Simply pathetic.
Why not be dignified. Be proud of who and what you are. Be Pakistani.
When our music is so different and has a character all its own, then why the eff can't the media mold their character?
And lastly,
Mindless animation: Ever since news channels started using animated illustrations to shore up their reports, they have steadily sunk to the very depths of mediocrity, callousness, ridiculousness, absurdity, and downright insensitiveness.
There have been times that one has cringed at the mindless animated creativity (or lack thereof) that frequently explodes across one corner or top of the screen.
Serious news reports cannot be supported by tongue-in-cheek animation that is childish or insensitive. For example, you cannot have, and there have been, animations that have dismayed viewers when natural catastrophes like floods, fires, and earthquakes have occurred. Death and pain are involved in all these manifestations. They have to be handled and broadcast with the utmost care and sensitivity.
You cannot have a huge animated Tsunami drowning out scurrying animated figures, or animated earthquakes that have mountains consuming villages and quivering like jello in one corner of the screen or animated fires that flicker across the bottom of the TV.
Worst of all, you cannot have animated suicide bombers setting themselves off or explosions taking place to depict actual death and suffering.
Have a heart.
Have respect.
Have some sense.