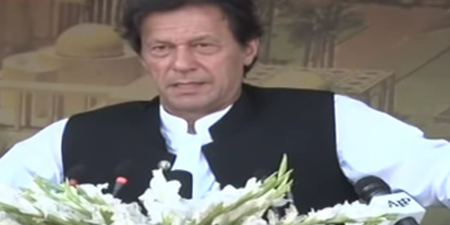 JournalismPakistan.com May 06, 2019


ISLAMABAD - Some journalists made fun of Prime Minister Imran Khan's mispronunciation of the word roohaniat (spiritualism).
Khan while addressing the inauguration of the Al-Qadir University in Sohawa on Sunday was seen struggling with the correct pronunciation of the Urdu word.
The News journalist Umer Cheema, in a tweet in Urdu, maintained that it is a cruelty to burden somebody more than his mind can take.
Murtaza Solangi, a former head of Radio Pakistan, maintained: "From Aitchison to Oxford, Mr. Khan maintained his brilliance, intellect, and eloquence. It oozes out in this clip."
Columnist Khurram Husain was harsh in his tweet. "This guy's homeopathic spirituality and understanding of history is pulling the country down the toilet."
Talat Aslam, Senior Editor of The News, asked: "Does anyone remember this starlet from the 80s and 90s called Roohani Bano?"
Filmmaker and journalist Hasan Zaidi replied: "Yes. Wasn't Imran Khan rather fond of her?"