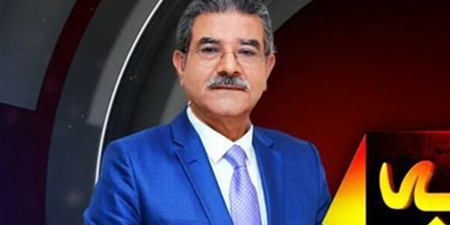 JournalismPakistan.com September 08, 2021


ISLAMABAD—Veteran journalist and anchorperson Sami Ibraheem (pictured) plans to move an application in Islamabad High Court (IHC) to separately hear the asset concealment case filed against Information Minister Fawad Chaudhry and not attach it with the alleged graft case of former president Asif Ali Zardari.
BOL News reported that Sami Ibrahim filed a 'quo warranto' application in the IHC on September 11, 2019, seeking Fawad Chaudhry's disqualification from the Parliament and removal from the public office since there was a discrepancy in his declaration of wealth and asset statements submitted to the Election Commission of Pakistan (ECP) in 2017 and 2018 respectively.
Ibraheem said that his investigations show that Chaudhry, who is a senior leader of the ruling Pakistan Tehreek-e-Insaaf (PTI), concealed assets worth millions of rupees from the ECP and, therefore, he should be disqualified under Article 62(1) (f) of the Constitution from the National Assembly.
Article 62 and 63 of the Constitution requires a member of the Parliament to be 'sadiq and ameen'—truthful and trustworthy—a yardstick Fawad Chaudhry fails to meet because of his contradictory and 'false'' declarations submitted to the ECP and concealment of assets, Ibraheem told BOL News.
According to the petition, respondent Fawad Chauhdry "with mala-fide intention and ulterior motives, concealed his assets, their cost and "provided wrong and false statement of his own and (of his) spouses" in Form-B (statement of assets and liabilities) submitted along with his nomination papers. The petitioner urged that a criminal case be initiated against the federal minister and all his privileges withdrawn.
After at least five hearings, IHC Chief Justice Athar Minallah clubbed Sami Ibrahim's application with that of a corruption case against former President Asif Ali Zardari and also sought input from chairman Senate and speaker National Assembly regarding such a case.
The most interesting aspect of the petition is that Fawad Chaudhry has been using three different names in various official documents, which the petitioner said revealed his "ulterior motives."
"In his Computerized National Identity Card and Passport, the PTI minister got his name written as Fawad Ahmad Naseem Ahmad while in his nomination papers he wrote his name as Chaudhry Fawad Husain. In Revenue Record, his name appears as Fawad Fareed Awais s/o Naseem Husain," said Ibraheem.
Photo: Twitter (@_Sami_abraham)