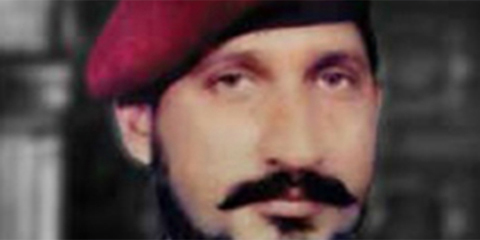 JournalismPakistan.com January 14, 2018 Myra Imran & Imran Naeem Ahmad



This story is one of 10 case studies highlighting the economic condition of slain journalists' families and the displaced reporters. Journalist Myra Imran traveled to remote and high-risk districts in Khyber Pakhtunkhwa and FATA to interview family members, their relatives, displaced journalists, and office-bearers of press clubs and journalist unions. The stories are part of a field study report Surviving the Story, launched on January 8, a collaborative initiative of JournalismPakistan.com and Communications Research Strategies (CRS).
Saleem Tahir, a local journalist, was among the first to reach the site of a bomb blast in Dera Ismail Khan on January 4, 2009. The security personnel turned away many people but the 46-year-old used his journalist ID to get close access to the scene. Unfortunately, another explosion followed at a roadside hotel. A suicide bomber blew himself up, killing Tahir and many others.
"He used to cover bomb blasts all the time, I could never imagine he would get killed," Tahir's widow Zahida Parveen says sobbing.
The death in the sacred month of Moharram left the family shocked. "My parents were shattered to hear the news," says Abdul Rasheed, the slain journalist's elder brother. "My mother lost her senses, unable to recognize anyone for almost seven years."
Tahir's father fell ill too, remaining bed-ridden for nine months before passing away. His mother died in August 2016.
According to a report by the United States Institute of Peace (USIP), D. I. Khan witnessed 63 sectarian attacks in 2008 and 2009 in which 135 people were killed.
Known for his bold writing, Tahir wrote columns for several newspapers and also owned Weekly Chitan.
His daring writing style was often the topic of discussion at home. "My father used to ask me why I did not tell my husband to stop writing so fearlessly. He even spoke to him a few times, reminding him he had small children and that he was a government servant," Parveen says.
Tahir would laugh off such calls, pointing out journalism meant reporting honestly. "I also told him to stop but he wouldn't listen," recalls Parveen.
Journalists in Pakistan's remote districts are often poorly paid or do not get paid at all. It is for this reason they have to look for other sources of income.
Tahir had a low-scale government job. He also ran a homeopathic clinic, treating the needy. But his first and last love was journalism. It was this love that took his life. "He had newspaper clippings of a previous bomb blast in his pocket when he got killed. I still have those blood-stained cuttings," Parveen says, holding back her tears.
Her son Ahmad Saleem, now 26, works as a clerk in the Deputy Commissioner's office. He says he knew practicing journalism was full of risks. "Writing the truth is not easy." He recalls his father telling him in 2008 that things were becoming difficult for journalists.
Little did Saleem know life would be so hard. With his father dead, he had to shoulder responsibilities at a very young age to help the family get back on its feet.
"We faced a lot of problems after his death; the greatest being the expenditure of my siblings' education. My uncles helped but it is hard to ask."
Saleem is lucky to get a job, thanks to the efforts of the local journalists and the chief minister.
Despite the job, the family faced financial hardship. There was no support forthcoming from any organization - only sympathies. The news organizations Tahir worked for offered no monetary help, nor did the government. It was a financial nightmare.
Parveen had submitted her papers for a job as a health worker when her husband was alive. "I was called for four-month training after his death. I had never ventured out of the home before and it was tough for me; also because the kids were small."
The biggest issue for her was the children's education. "Educating the kids was a challenge, and it was difficult to make ends meet due to inflation." Had they received her husband's full pay, she retorts, as the families of slain security forces personnel do, it would not have been so distressing.
Parveen demands the government provide support to her children considering Tahir was killed in line the of duty. "We deserve assistance and my children support with their education."