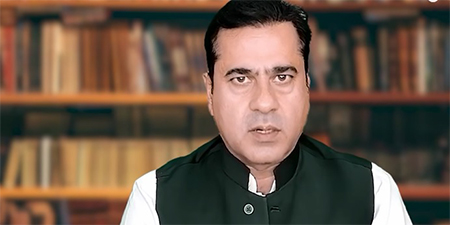 JournalismPakistan.com May 25, 2023


LAHORE—The Lahore High Court (LHC) continued its inquiry into the mysterious disappearance of journalist Imran Riaz Khan, with Lahore Police Deputy Inspector General (Investigation) Kamran Adil stating that neither the Inter-Services Intelligence (ISI) nor the Military Intelligence (MI) have acknowledged having him in custody.
Imran's whereabouts remain unknown, leaving his family and supporters deeply worried. He was arrested on May 11 at the Sialkot airport en route to Oman. Surprisingly, he was not presented in court, as the police claimed to have released him the same night, stating that he had left with "unknown people."
In an official complaint filed with the police on May 16, Imran's father expressed grave concern about his son's well-being. CCTV footage from the police station reportedly captured the moment when masked men "abducted" Imran after his release. Since then, there has been no information about his whereabouts, leading to suspicions that he may have been taken by unidentified "agencies" and subjected to enforced disappearance.
Chief Justice Muhammad Ameer Bhatti has been presiding over the case for the past week, firmly warning that anyone found involved in the illegal abduction and detention of Imran will face punishment.
Despite setting multiple deadlines for Imran's recovery, no progress has been made in determining his location. The police have repeatedly asserted that no law enforcement personnel hold custody of the anchor within the country. Similar directives to the ministries of interior and defense to ensure Imran's safe recovery have yielded no tangible results.
During Thursday's hearing, the deputy inspector general informed the court that the police had reached out to both the ISI and MI, both of which denied having Imran in their custody.
Imran's father, taking the stand, alleged that his son was being targeted for a YouTube vlog he had posted. In response, Justice Bhatti acknowledged that making sensational claims in vlogs had become common practice, often driven by monetary motives. However, he emphasized the court's unwavering commitment to upholding the fundamental rights of all citizens.
In a bid to aid Imran's recovery, the judge directed his lawyers to collaborate with the police team and provide any evidence regarding his whereabouts. The hearing was adjourned with hopes that new information would emerge to shed light on the anchor's disappearance.