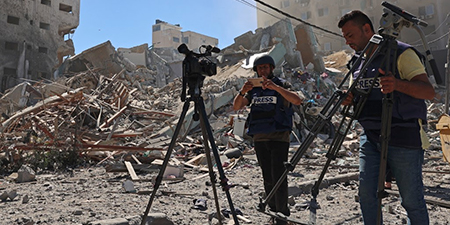 JournalismPakistan.com May 18, 2021


Over the last week, the Israeli military bombed more than a dozen media offices in Gaza. The International Federation of Journalists (IFJ) and the South East Asia Journalists Unions (SEAJU) stand in solidarity with their colleagues whose offices have been destroyed in bombings in Gaza over the last week.
SEAJU said, "Even as we struggle for press freedom and media workers' welfare in our countries and in the region, we cannot, as journalists, ignore the targeted bombings of media outlets that the International Federation of Journalists has called 'a shameful attempt by the Israeli military to silence media reporting of its violence in the Gaza strip' and a violation of international law."
Aside from the bombing of the Al-Jalaa building that housed the offices of Al Jazeera and the Associated Press, airstrikes also targeted the Al-Shorouk Tower on May 13 and the Al-Jawhara tower on May 11. More than a dozen media outfits and NGOs held office in those buildings.
SEAJU also views with concern reports of arrests and attacks on journalists covering the escalating violence in the region.
SEAJU said: "As journalists who also face attacks and arrest over our reporting, we call for an end to the violence against our colleagues and accountability for these attacks on press freedom and the working press."
"The impunity which those who deliberately attack journalists enjoy means media workers face an imminent further threat of being targeted," IFJ General Secretary Anthony Bellanger warned in a statement on May 14.
The IFJ Asia-Pacific said: "We stand in solidarity with Palestinian and foreign journalists and who are persevering through these difficult times and continuing to defend press freedom despite systematic violence and targeting of media outlets. It is clear the targeted airstrikes on buildings that house the offices of media outlets is an attempt to stifle freedom of expression and information coming out of Gaza." - IFJ media release/Photo: AFP