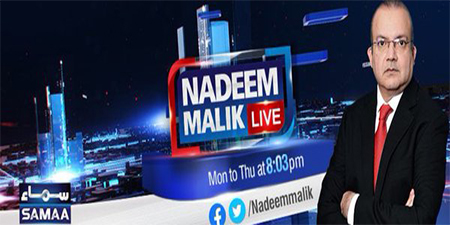 JournalismPakistan.com July 04, 2021 Cherie Conela



ISLAMABAD—The Federal Investigation Agency (FIA) has sent a notice to renowned journalist and TV anchor Nadeem Malik over his remarks on Arshad Malik's case during his show, Live with Nadeem Malik, that aired on April 28, 2021.
Malik has been asked to appear at the FIA's headquarters on July 6 with "all relevant information, documents, and evidence."
"Please refer to your 'Nadeem Malik Live Programme' on Samaa News dated April 28, 2021, [that] revealed that you have important information which can be relevant for the agency to further investigate the above-mentioned case and to link some relevant persons with this case," said the notice.
"FIA's notice to Nadeem Malik, a reputable journalist, for personal appearance before the agency over his remarks on the notorious Arshad Malik case, is the latest example of unfolding fascism," journalist Syed Talat Hussain tweeted. He adding that: "Media is facing a total assault, whose origins I have consistently documented."
Photo: Twitter (@Nadeemmalik)