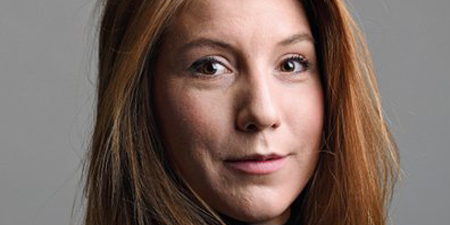 JournalismPakistan.com August 26, 2017


STOCKHOLM - An eccentric Danish inventor who is being held over the grisly death of a Swedish reporter whose headless torso was found at sea has denied killing her and mutilating her body, police said Friday.
"The suspect denies homicide and desecration of a human body," Copenhagen police said in a statement, referring to Peter Madsen, 46, who is being held on suspicion of killing 30-year-old Kim Wall (pictured).
Madsen, held in formal custody since August 12 on suspicion of "negligent manslaughter", says Wall died in an accident on board a submarine he built, claiming that he subsequently dumped her body in the sea south of Copenhagen.
And he denies cutting off her legs and limbs.
Investigators say Wall's body was "deliberately" mutilated and weighed down with a metal object to try and avoid detection.
She was last seen on board Madsen's 60-foot (18-metre) Nautilus submarine on August 10 when she went to interview him. Investigators found traces of her blood inside the vessel.
Danish prosecutors are seeking to charge him with murder and have until September 5 to request an extension of his custody.
Known for his foul temper and fallouts with former colleagues, Madsen, who describes himself as an "inventepreneur" on his website, is to undergo a psychiatric evaluation.
Wall was a freelance journalist who had reported for The New York Times and The Guardian. Her boyfriend reported her missing a day after the interview with Madsen.
That same day, Madsen was rescued from waters between Denmark and Sweden shortly before his submarine sank.
Investigators recovered and searched the sunken vessel, which police believe Madsen sank intentionally. - AFP