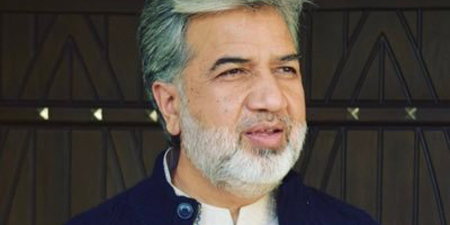 JournalismPakistan.com September 22, 2020


ISLAMABAD—As journalist Ansar Abbasi sent an alert to the government on alleged obscenity on PTV through a tweet showing a workout by a woman accompanied by a male trainer, condemnation and support followed.
Abbasi attached a video clip of the workout with his tweet, with the appeal to Prime Minister Imran Khan, and his minister and advisor on information and broadcasting Shibli Faraz and Lt. Gen. (Retd) Asim Saleem Bajwa. "Mr PM @ImranKhanPTI this is PTV. @AsimSBajwa @shiblifaraz."
Soon it turned into a Twitter trend.
Minister for Science and Technology, Fawad Chaudhry was scathing in condemning the journalist. "If even an exercise session and women picture on advertisement boards makes you feel amorous, you really need psychic therapy and advice…"
Nida Kirmani thought Abbasi had got a sick mind. "Only someone with a sick mind would imply that a video of a woman exercising is in some way inappropriate. Seek psychological counselling, and in the meantime stop watching television or leaving your house for that matter."
Imaan Zainab Mazari-Hazir, daughter of Minister for Human Rights Shireen Mazari, maintained the tweet by Abbasi shows sickness in Pakistani society. "Ansar Abbasi sahab objecting to a woman exercising reflects the deeply embedded sickness in our society. The objective is simple: invisibilize women. They dont want women doing anything: working, studying.. apparently not even exercising. Only problem is them & their sick minds."
Former editor of Dawn, Abbas Nasir supported PTV for showing a female workout. "I agree. Well done PTV. We should have more fitness programmes. Will cut weight, blood pressure and heart problems just to mention a few."
Maria Memon of ARY News did not see any indecency in the clip. "The way I see it, PTV is teaching women basic home workout routine so they can take care of their health."
However, there was also support for Abbasi.
Saman Khan tweeted: "Ansar Abbasi He has correctly pin poited towards one of the root causes of rape incidents. this problem must be addressed. Pemra needs to take action now."
Muhammad bin Farooq thought the journalist has pointed towards an important issue. "Ansar Abbasi has paid attention to a very important issue as a journalist. Criticism of secular and liberal minds has started since this morning. Keep it up @AnsarAAbbasi."
Still, others made fun. A tongue in cheek tweet by Waqas pointed out, "We did not need this information but now we have it. We now know what turns Ansar Abbasi on."
Hasan Kamal in this tweet wondered about "any chance jang group can find someone to clean ansar abbasi's filthy mind."
Photo: Twitter (@AnsarAAbbasi)