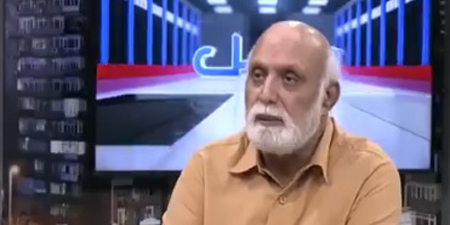 JournalismPakistan.com July 07, 2020


ISLAMABAD—Analyst Haroon Rashid has alleged that two renowned professors sacked recently worked as agents of spy agencies in America, India and Afghanistan.
In his talk show Muqbil on 92 News, the analyst said Professor Hoodbhoy, who was fired from his job at FC College, Lahore, worked for the US embassy. He alleged that he had worked against the interests of the country since 1985.
Ammar Ali Jan, also sacked from his teaching job at FC College, demanded action against the channel for allowing the columnist to slander him and Dr. Hoodbhoy.
"Haroon Rasheed sb claims that Prof Hoodbhoy works for US embassy and I work for PTM/CIA/RAW/NDS. One can ignore this as ramblings of a madman but such delusional thinking is shared by those who run this place. Lets see if @reportpemra will ask 92 news to explain this slander."
Abbas Nasir, a former editor of Dawn, was scathing and termed the columnist ignorant. "This guys is a living example ke jihalat kissi ki miraas nahi. Koyee bhi jahil ho sakta he. Shameful of News 92 to offer its platform for such malice, slander. Esp at the hands of people with dubious credentials."
Kamran Shafi also expressed strong condemnation. "This man is such a sorry specimen of a human being yet is loved by the #DeepState!!"
Nida Kirmani regretted that TV channels get away with such slander. "Deplorable that news channels can get away with this kind of dangerous slander. Fully support Dr. @ammaralijan and Professor Hoodbhoy—two of the most upright scholars we have. Shame on @92newschannel! @reportpemra"