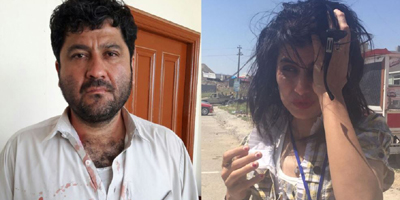 JournalismPakistan.com May 15, 2016


WASHINGTON, D.C. - Voice of America journalists were beaten and harassed by authorities in Pakistan and Iraq earlier this week. One of the journalists was a reporter for VOA Deewa and the other for VOA Kurdish, says a VOA press release.

"I am appalled that these VOA journalists, who were only doing their job of reporting accurate information, were beaten and harassed by security forces," VOA Director Amanda Bennett said. "Intimidation only generates an opposite effect. VOA will not be deterred in its efforts to seek out and share the truth."

Naimatullah Sarhadi, a contributing reporter for VOA Deewa, was attacked by local police Thursday night (May 12) at a checkpoint in Chaman in Balochistan province while returning home from an assignment. When Sarhadi identified himself as a VOA reporter, police severely beat him and broke his nose. A bystander eventually convinced the authorities to leave Sarhadi alone.
On Friday, local journalists in Chaman demonstrated to condemn the violence. VOA Deewa is the Voice of America's popular Pashto language news service to the volatile border region of Northwest Pakistan.

Zhiyar Muhamad, a contributing reporter for VOA Kurdish, also was attacked on Thursday while covering a protest outside a mosque in the city of Sulaymaniyah in Iraqi Kurdistan. A uniformed Kurdish Security Forces (KSF) official demanded Muhamad's camera and cell phone, threatening to beat her if she did not comply. When she refused, the official punched her in the head, breaking her glasses. Muhamad managed to retain her equipment and continued to cover the protest as the security official eventually was removed by other KSF members.

"The BBG calls on authorities in Pakistan, Iraq and elsewhere around the globe to refrain from carrying out these types of aggressive acts, which are only meant to silence independent journalism and freedom of expression," BBG CEO and Director John Lansing said. "Threats to the free practice of journalism are a denial of basic human rights and must not be supported by any government." - VOA
Related posts from JournalismPakistan.com Archives:
KP Police arrest alleged killer of VOA correspondent
Court dismisses VOA staffer's application