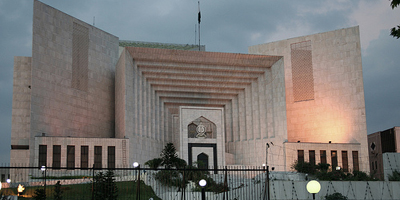 JournalismPakistan.com December 10, 2014
ISLAMABAD: The Supreme Court of Pakistan Wednesday stopped implementation on a Gilgit-Baltistan Anti-Terrorism Court verdict wherein Mir Shakil-ur-Rehman, the owner of Geo-Jang Group, and others were awarded 26 years imprisonment.
The news .com.pk reported a three-member SC bench headed by Justice Asif Saeed Khosa heard the petition filed by Mir Shakil's counsel, Advocate Khawaja Muhammad Harris.
Harris challenged the verdict of the GB court, arguing that it violates basic human rights of the accused enshrined in 1973 Constitution.
He also referred to the Supreme Court's verdicts that sentence cannot be awarded in absentia.
The apex court suspended implementation on the GB court verdict through an interim order.
The GB court awarded 26 years imprisonment to Mir Shakil, and Bollywood actress Veena Malik among others last month for committing alleged blasphemy in a mock wedding show on Geo Entertainment.