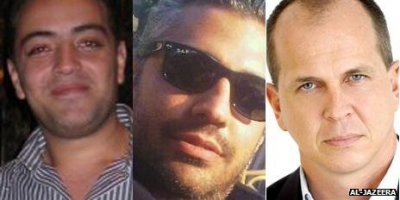 JournalismPakistan.com January 01, 2014
Three journalists working for the Al-Jazeera English television network have been remanded in custody for 15 days by the Egyptian authorities, BBC reports.
A statement from the public prosecutor in Cairo said the men were accused of joining an illegal terrorist group, supplying that group with equipment, and three other charges.
The three include Peter Greste - an Australian former BBC journalist. A cameraman who was also arrested has since been released.
Al Anstey, director of Al-Jazeera English, said the detentions were "outrageous" and the accusations against the men "totally false and unfounded".
Egyptian authorities have accused Al-Jazeera of bias in favor of the Muslim Brotherhood since the army overthrew President Mohammed Morsi in July.
The Brotherhood was declared a terrorist organization last week, amid a crackdown on the group in which hundreds of pro-Morsi protesters have been killed and thousands of Brotherhood supporters arrested.