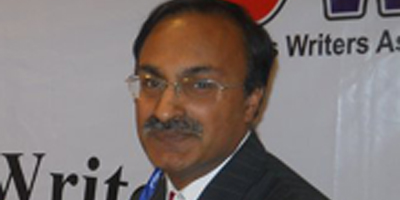 JournalismPakistan.com August 14, 2012
ISLAMABAD: The Pakistan Sports Writers' Federation (PSWF) has reacted strongly to a 'so-called' meeting between Rashid Ali Siddiqui, the President of Sports Journalists Association of Sindh (SJAS) and Rosyln Morris of the AIPS.

Amjad Aziz Malik, the PSWF Secretary said Tuesday it was just a courtesy call by Rashid during the London Olympics and the meeting had nothing to do with the affairs of the PSWF.

Rashid, he said had made it look like an official meeting, although it was not. He also publicised it widely by posting it on Facebook and sending links and photographs to some websites.

This also upset Rosyln, the Secretary General of the International Sports Journalists Association (AIPS) who later sent an email to Rashid expressing her anger.

The text of the email was shared by PSWF with JournalismPakistan.com. Rosyln wrote: "I was astonished to see what you posted on Facebook. Our meeting was nothing more than a friendly meeting in London during the Olympics. The fact that you made it "political" disappoints me greatly and makes me very sad. I will not publish your articles on the AIPS website and I ask that you retract it from Facebook."
Meanwhile the PSWF said it was shocked over such misconduct by Rashid and was considering taking disciplinary action against him under the PSWF constitution.

Amjad pointed out the PSWF elections held during the Congress were not only accepted by SJAS but the result sheet was also signed by Rashid.

Moreover, he said there was video evidence wherein Rashid had admitted Shahid Shaikh as President PSWF and Amjad Aziz Malik as the Secretary. The AIPS also accepted this result and endorsed the new elected members on their website, Amjad said.