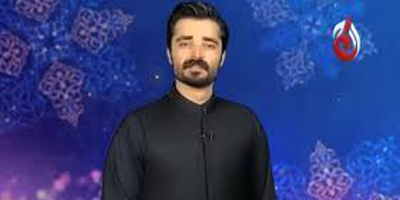 JournalismPakistan.com June 17, 2016


ISLAMABAD - The electronic media's regulatory authority PEMRA Friday banned two hosts from running their special Ramzan programs following complaints from viewers.
Hamza Ali Abbasi (pictured), hosting 'Ramzan Hamara Iman' on Aaj TV and Shabbir Abu Talib host of Ishq-e-Ramzan on TVOne were those banned. PEMRA has referred the matter to its Council of Complaints Karachi that will give a final verdict on June 20 after hearing the parties involved. Summons in this regard have been issued.
However, until the Council rules on the matter, the two channels are permitted to continue airing their programs by introducing some other hosts.
PEMRA said viewers expressed anger at the channels that were neglecting the sanctity of the fasting month in a race for ratings, and airing provocative content.
PEMRA warned that if its decision was not adhered to, the transmission of the channels will be suspended.
The authority said it was unfortunate that despite clear guidelines issued before the start of Ramzan, television anchors, owners and guests had crossed all limits in discussing issues and fatwas to kill were being aired.
PEMRA said in order to ensure the situation did not get worse, and in light of viewers' complaints it had decided to slap the said bans under PEMRA Ordinance 2002 (Section 27).
It warned that if the two program hosts and a guest named Kokab Norani Okarvi moved to some other channel to discuss sensitive and controversial issues, those programs too would be banned.