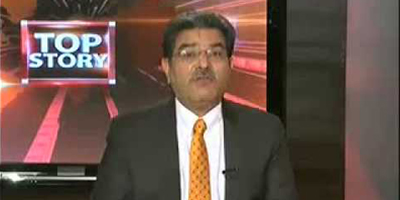 JournalismPakistan.com August 17, 2013 By Chatterbox

LAHORE: Even though I should be prepared, I am forced to reckon I'm not. Pakistan's news channels keep producing unpleasant surprises that make me think I'm totally out of sync with my country and its news media. Not only are certain anchors and reporters uninformed, ignorant, arrogant, unprofessional, biased, uncouth, rude and totally intrusive but also the worst kind of hypocrites and they are allowed to continue to do so by the public and their organizational management. It is this state of mind that galls me most.

Imagine my shock and dismay the other day when surfing through our numerous news channels I came upon the Dunya current affairs program Top Story featuring a guy named Sami Ibrahim who in all earnestness was discussing an issue of 'national concern' with a paid-for TV mufti, Abdul Qawi, and suitably mealy mouthed chaddar bibi, Amina Janjua, whether Pakistani cricket legend Wasim Akram has the right to bring his Australian fiancée Shaniera Thomson to Pakistan, especially since there is no confirmation that they plan to marry or have signed a nikahnama.

Hurray. What a feat. How totally unabashedly brilliant. What a stroke of genius.!!!

Sami wanted to know whether it was culturally and religiously acceptable for the Sultan of Swing to be staying under the same roof as Shaniera. For this Sami needed the opinion of the TV maulvi and Ms. Janjua.
http://www.zemtv.com/2013/08/12/mufti-abdul-qawi-blasted-on-wasim-akram-and-his-wife-relation/

Wasim Akram, who is widely regarded as the best left-arm fast bowler of all time and has taken no fewer than 414 Test wickets and 502 ODI wickets and has scored almost 3000 runs with a highest score of 257 not out in Tests is held in high esteem in Pakistan and the world over. A generation has grown up admiring his skills and stunning wicket-taking ability. He is held in the highest regard.

Wasim recently returned from Australia with Shaniera (http://www.youtube.com/watch?v=DQM5UMDtCsM) and both have been warmly received in Pakistan i.e until Sami decided to take on the role of a Mutawa and making Wasim's business his business. Well done Sami. Shabash!! You have joined the hallowed club of Pakistan's vigilante media aunties headed by Maya Khan and Dr Maria Zulfiqar Khan.

What does Sami plan next?

I sincerely hope he is not going to wear a large wrap-around chaddar, head covered a la Pakistani media auntie, and then go raiding with a bunch of moronic police kay sepahi. What a scene that would be...Auntie Sami and his thullah party!!

Wasim's first wife Huma died two years back of medical complications.

To bring Wasim's personal life into the media spotlight in such a shallow way is really dredging the bottom for muck. This is not journalism. Shame on Dunya for resorting to cheap antics like this in an attempt to up their viewer ratings. Indeed, all that Sami managed to do was to piss off a whole lot of people. He has a knack of doing that anyway. Indeed, I have since learned he has a history and reputation of doing so.

I would like to know how Sami would feel if I were to continue to delve into his past and rake up the dirt...put his past on the line for all to see. He can hide behind his sharif pseudo professorial expression and studiously affectated manners, but it doesn't fool me. In fact it doesn't fool anybody.

Hypocrisy has a way of bringing out the beast in me and Sami is hypocrisy personified. He oozes it. His every action screams of it. What is that they say about sheeshay ka ghar mein rehnay walay?

So next time Sami decides to play Sharifzada and goes after somebody like Wasim Akram who lives his life for all to see, let him remember this... they are those out there who know him and well. He can fool some people some of the time, but certainly not all of the time.

For those of you who want to have a bash at me. Welcome.