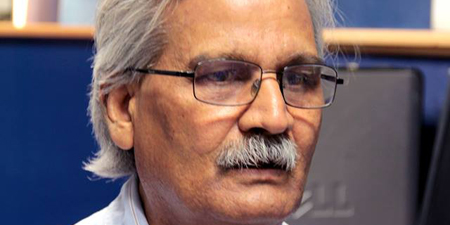 JournalismPakistan.com May 12, 2016 Steve Manuel



ISLAMABAD - Press freedom or what it is perceived as in Pakistan, still has a long way to go and what has been achieved so far has been done at a great price and through great sacrifices.
There is no saying that tomorrow the government will not shut down TV channels, that newspapers will continue to enjoy getting ads, journalists will not be arrested or mysteriously disappear… that the media will continue to be free. All the more reason then to fortify the good work already done and to further cement the future of media freedom and make it secure for all times.
Though there have been many new heroes and stars that have risen to the occasion and have ensured that media stays free and have fought valiantly for each and every right and freedom, the roots of their struggle can be traced to the 1980s and before that when media was restricted and even censored.
Many a journalist, especially those based in Islamabad in the 80's will tell you of the daily trips to the tiny censor office in Sitara Market late in the night to face a long bearded major who would go through the pages with a zeal that was almost maniacal as he marked off areas of the newspaper he deemed unsavory or threatening to the perceived 'piousness' of the Zia regime.
The news would be relayed back to the newspaper offices and efforts would be made to fill in those blank spaces with alternative news reports. But sometimes this became difficult so a new strategy was evolved; a very clever and certainly defiant strategy. Those spaces were left blank.
People who got the newspaper next day would be faced with white spaces on the front page. This novel way of protesting went on for as long as the censorship demand was in place.
But to get to that point great sacrifices had already been made. When General Zia-ul-Haq came to power in 1977, a reign of intolerance based on violence and corruption was let loose. Intellectuals, artists, writers, journalists and political activists were arrested, persecuted, blackmailed, tortured and even killed.
No matter how difficult it might seem now, it can't possibly compare with the intolerance and high-handedness with which the authorities dealt with media rights and freedom in those days.
Soon after Zia's regime took over, Musawaat, a Karachi-based newspaper, was shut down for no rhyme or reason. Journalists throughout the country tried to reason with the military to take back the decision but Zia and his generals saw this as an affront to their authority and came down with a heavy hand on those that dared speak up against them.
When the Pakistan Federal Union of Journalists (PFUJ) called for a countrywide protest, hundreds of journalists demonstrated. Many were arrested. This forced the PFUJ and the All-Pakistan Newspapers Employees Confederation (APNEC) to negotiate with the military regime and the latter, perhaps testing the waters, restored the newspaper and released the arrested journalists.
Then in March 1978 the regime shut down the Lahore edition of Musawaat. When the PFUJ and APNEC again tried to negotiate a settlement, the military was adamant.
Another call for launching a protest movement by the two media representative bodies was announced and got a huge response. Journalists started courting arrest at the Musawaat on daily basis. By the end of May, the regime had not budged an inch and rather than negotiate a settlement decided the journalists' resistance needed to be met with an iron hand.
Major General Mujibur Rahman was told to take charge of dealing with the media. He decided to do just that.
On 13 May 1978, four journalists courted arrest at the offices of Musawaat. They were: Nasir Zaidi (pictured), a quiet, unassuming and physically frail individual, along with Masood Ullah Khan, Iqbal Jafari, and Khawar Naeem Hashmi. They were picked up from outside the Musawaat by the authorities and driven away in chains.
The four were produced before a summary military court headed by a young major and within minutes, he had not only completed his summary proceeding but sentenced the journalists to imprisonment and a flogging.
Within one hour of passing the sentence, the four were flogged. Taken to the Kot Lakhpat Jail, each man was stripped to his waist, spreadeagled and lashed five times with a yard of plaited leather thong dipped in oil.
"After the sentence was carried out, I was given the option of being taken out on a stretcher but I rejected it, preferring to show my captors that my spirit could not be broken," said Zaidi, when asked how he had managed to walk after being whipped. All four were then taken to hospital in chains and manacled to their hospital beds.
Zaidi and his three fellow journalists were declared Prisoners of Conscience by Amnesty International.
That was more than 33 years ago and the story has become the stuff of legends. Zaidi and his group stood up for media freedom. They were unyieldingly brave and dedicated and they are remembered and revered to this day.
"They had integrity," a veteran newspaper reporter was heard telling his younger companions at the Press Club in Islamabad.
Integrity… how true!
Now that is a commodity that is not associated with modern media in Pakistan these days. Frequently journalists have been shown up for fabricating stories, producing and writing half-truths, providing twisted or incomplete facts to suit their own vested interests, using the media to get people arrested, get people sacked, destroy businesses, even get people killed because of what they say on the phone or television.
Journalists have been accused of taking bribes, hoarding dollars, indulging in land grabs, encouraging extremism, using their influential contacts to benefit financially and even beating up doctors and teachers and threatening others with dire consequences when they cannot get their own way.
Those that have fought for media freedom wince when confronted with these glaring affronts. "These are not journalists, just opportunists," said one senior journalist in Karachi.
The general consensus though is that indeed Pakistan media has come a long way, but every now and then it slips a bit, sometimes because of its eagerness and sometimes through unprofessional decisions.
"The stars of today are the culprits of tomorrow," said a young journalist in Lahore, "We have to rise above the mediocre and self-aggrandizements that some of our TV and newspaper colleagues indulge in and fight for a better tomorrow; the fight for media freedom must go on." (This story was first published on JournalismPakistan.com in May 2011)