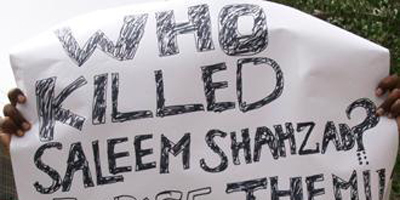 JournalismPakistan.com November 23, 2012
VIENNA: The International Press Institute (IPI) reports that at least 48 journalists have been killed in the line of duty in Pakistan in the last 10 years, with 35 of them deliberately targeted and murdered because of their work.
In 2012 alone, five journalists were killed in the country, according to IPI's Death Watch. For every journalist deliberately targeted and murdered, there are many others who have been injured, threatened and coerced into silence.
Pakistani journalists are killed, unjustly detained, abducted, beaten and threatened by law enforcement and intelligence agencies, militants, tribal and feudal lords, as well as some political parties that claim to promote democracy and the rule of law. Sadly, the perpetrators of violence against journalists and media workers enjoy almost absolute impunity in Pakistan.
According to figures complied by the Pakistan Press Foundation (PPF), of the 48 journalists killed in the line of duty in the past 11 years, 14 were from Khyber Pakhtunkhwa. The number of murders in Balochistan was 12, Sindh (9), Federally Administrated Tribal Agencies (8), Punjab (3) and Islamabad (2).
The IPI is a global network of editors, media executives and leading journalists dedicated to the furtherance and safeguarding of press freedom.