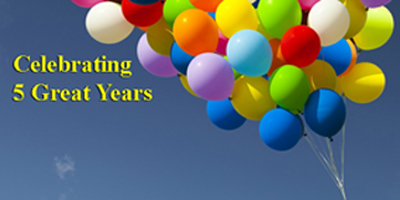 JournalismPakistan.com October 23, 2014 Steve Manuel

When a reporter or journalist is caught up in the excitement of sending his office an important ongoing story and wants it to land on the editor's desk as quickly as possible, he usually sends it as it is happening in short updated reports with the end line reading 'More to come…"
The same is the case with Journalism Pakistan. Today, five years after Imran Naeem Ahmad and I launched it, albeit in quiet fashion, it continues to be a work in progress. More to come!
True it's seen many changes and has gone through various transformations since October 24th, 2009, it remains in essence a journalists go to website. It is about journalists and the media and will continue to be so.
Pakistan's media is a continuing story and, therefore, so is Journalism Pakistan. Both are two sides of the same coin. Both have made progress and both have had to take a few steps sideways or backwards in their journey forward. But it has certainly been worth it.
I recall, after one month of its existence, we had only seven registered members. We now have thousands. Today, JP is read or followed in over eighty countries. The Facebook page has over 75,000 likes.
If we were doing something wrong then we would not have had this wonderful positive response. We are indebted to our supporters and well-wishers for bringing us this far.
Journalism Pakistan has always tried to be unbiased in its opinions but has never shied away from facing unpleasant truths as well. There was a time the website was hacked and there have been occasions when we have been threatened and abused. But hey, we're still here and that's all that matters.
We have broken stories and carried commentaries that have gone to the core of the issue or provoked the kind of response we'd hoped for. We have tried our best to carry every aspect of media and journalism on our webpage.
Imagine our excitement when we were informed one day that the staff of a certain newspaper had been banned from referencing our webpage because they were was frequenting it much too often. It was then and still is the ultimate compliment.
Much has happened in five years and it would not be fair to dwell on the itty-bitty details of everything that did or did not happen.
Suffice to say, we are happy that we still exist. We are happy that JP was an innovation that has lasted. It has not been a wasted effort.
In the future, we want to reach out more, be a better teaching tool, be a better-referencing tool, be more interactive and we will be working towards achieving this goal. It's just that we plan something and then life wrenches us in another direction.
But if one perseveres, one reaps the fruit of determination. That's what we intend to do. We are determined to do better with the help of our followers and readers and we would welcome suggestions and advice on how.
Let our journey continue.
More to come….