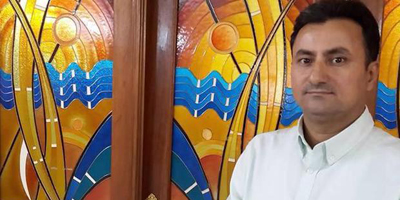 JournalismPakistan.com March 23, 2014
BAGHDAD: An Iraqi journalist was shot dead by a Kurdish officer at a checkpoint in Baghdad on Saturday as he went to work, provoking protests by other journalists and a promise by Prime Minister Nouri al-Maliki to arrest the perpetrator.

Mohammed Badawi, the Baghdad bureau chief of Radio Free Iraq was on his way to the office near the Iraqi presidential compound in the center of the capital when the killing took place.

"I was watching the cars passing through the checkpoint when a quarrel occurred between a driver and a soldier ... suddenly, two soldiers came and dragged the driver from his car and began to beat him," a man who identified himself as Riyadh and an eyewitness at the scene told Reuters.

"The driver pushed one of the soldiers away but a lieutenant came and shot him dead in the head".

Badawi's body was left at the scene for hours as dozens of Iraqi journalists gathered to protest his killing and demand the arrest of his killer.

Troops and army humvees surrounded the presidential compound in preparation to arrest the killer, but Iraqi security forces said Kurdish troops refused to hand him over.

Iraqi Prime Minister Nouri al-Maliki went to the scene, kissed the victim's body and vowed to arrest the killer.

Twenty minutes later, the commander of the Baghdad security operations center said the killer had been detained and state television broadcast footage of an officer it identified as the perpetrator.

Dozens of journalists came out to Hurriya Square holding the body of Badawi wrapped in a red blanket and chanting: "No no to Kurds, No no to Kurds".

Badawi was a father of five.

"Iraq is the second most dangerous country in the world for journalists," said Ibrahim al-Saragi, the head of the Iraqi Journalists Rights Defense Association. "There is a legislative vacuum inside Iraq to protect journalists and unfortunately, the targeting of journalists in Iraq is taking place on a daily basis, due to the lack of a mechanism to protect them".- Reuters (Photo by AFP)