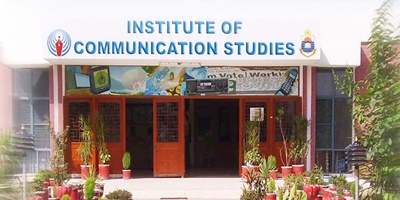 JournalismPakistan.com September 06, 2015


LAHORE: An ongoing tussle between the Institute of Communication Studies (ICS) at Punjab University (PU), Lahore, and working journalists has intensified with the latter vowing to expose the irregularities in the institute and seek relief from the Provincial Ombudsman.
The journalists have also submitted an application with PU Vice Chancellor Dr Mujahid Kamran who has marked it for inquiry. However, the aggrieved journalists are not quite hopeful about a positive outcome and a transparent inquiry by the committee formed by the VC.
Though the cold war is on for the last two years since the appointment of Dr Noshina Saleem as Incharge Director at ICS, things reached a boiling point when some working journalists felt they were intentionally stopped from joining M Phil course under the professional track system. The complainants alleged that the entry test was specifically designed to put working journalists in a disadvantageous position and give an edge to the institute's already enrolled students to qualify.
This, they said, was totally in contrast to the spirit of the program - to give professionals a chance to enhance their academic qualifications. Amazingly, the aggrieved journalists said, there was no condition of work experience to become eligible for entry test, extra marks for professional experience, any questions about the field and newsroom work etc.
The ICS has denied allegations saying it had no such intentions and there was no love lost with working journalists. Its assertion was that only those who qualified the test were enrolled.
Talking to JournalismPakistan.com, Abdul Majeed Sajid, Incharge Crime Edition and Feature Writer at Daily Jang, and also an applicant, explained that only 56 candidates passed the test of which 15 were male and all other female. Not even a single working journalist was "allowed to qualify", he added. He said the question paper had a lot of errors. Multiple Choice Questions (MCQs) were repeated, the subjective part was missing, focus was on theory and research instead of professional work, there was deviance from the entry test policy announced earlier and the intention clearly was to support rote-learners from the department.
He alleged many blue-eyed candidates already had the knowledge of the MCQs. "The subjective part was removed as very few of the students were able to narrate things in clear language. How strange is it to select M.Phil students on the basis of only 40 MCQs!" he exclaimed.
The ICS version is that these allegations have no ground as professional track does not mean print media only. It does also include TV, radio, public relations, advertising, research and development and so on. The paper was prepared by senior teachers and it was a blend of all the fields of media and communication studies. In total, 56 students qualified including many professional journalists from Geo, Jang election cell, Express, Neo TV, Channel 24 and other media houses, PR companies, advertising agencies and so on. Besides, there is no gender bias. Overall more girls are getting admission in ICS than boys in different programs, including the MA and BS programs.
Abdul Majeed Sajid rejected ICS version and demanded announcement of the names of the "so-called professionals" admitted to the program. He said he had taught at ICS for seven years and was being stopped from joining M Phil as he knew a lot about what was going on there.
A staff member at ICS told JournalismPakistan.com, on condition of anonymity, that they had instructions from Dr Noshina to stop working journalists from meeting students and staff members. He said working journalists were perceived as detectives in the garb of students or beat reporters always on a hunt for news stories against ICS. "The VC is already being probed by NAB, FIA, the Provincial Ombudsman etc because of the new stories leaked by university staff. He cannot afford to allow working journalists to spread their tentacles here further," he said.
Similarly, he said, the journalists had written a lot against appointment of Dr Noshina - No. 4 on the seniority list - as ICS head. "So, it was natural for her to get rid of them and keep them at a safe distance."
Sheikh Jameel, Assistant Producer, PTV, who also appeared in the test, said he applied as it had become necessary for one to enhance one's academic qualification to grow in the profession due to increasing competition. "I simply want this right of mine to be restored; I have no vendetta against ICS staff to settle."
Some students also came up with reservations against ICS head for striking off names of working journalists from the visiting faculty. They said earlier the working journalists would help them in job placement as well as introduce them to real-life journalism. "Now we are left with no choice but to read obsolete curricula."
There is only one working journalist - Shabbir Sarwar - in the permanent faculty but his case is disputed as he has not surrendered his membership of Lahore Press Club (LPC). "We fear losing him as well if his issue is not settled," they added.