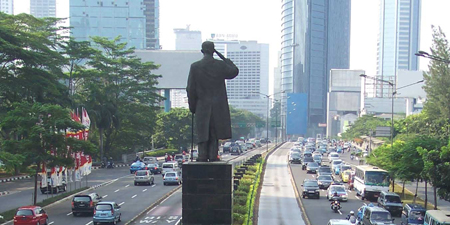 JournalismPakistan.com May 17, 2017


The International Federation of Journalists (IFJ) and its affiliate the Aliansi Jurnalis Independen (AJI) have strongly criticized the deportation of eight foreign journalists from Indonesia just days after Indonesia hosted World Press Freedom Day.
The IFJ and AJI called on the Indonesian government to guarantee access across Indonesia for both foreign and local journalists.
On May 5, two Swedish media workers, Vilhelm Stokstad and Axel Kronholm were expelled from Jakarta. Stokstad and Kronholm were expelled after they were followed by immigration officers after covering a rally in Jakarta organized by the National Movement to Safeguard the Fatwa of Indonesia Council of Ulemas (GNPF MUI) around the Istiqlal Mosque in central Jakarta. The two men were approached at a restaurant before they were apprehended and detained by immigration.
During their detention, they were questioned separately, forced to delete all images from the rally, including shots of flags in the crowd. Immigration officers also demanded that Stokstad and Kronholm not publish any material from the rally.
When Stokstad spoke to AJI he said: "They threatened to blacklist us if we publish or talk about this." The officers argued that news about the rally might "give the wrong idea" about Indonesia.
The immigration officers escorted the two media workers back to their apartment, where they photographed their passports and repeatedly told them their reporting on the rally had been illegal, as they did not hold media permits. Stokstad and Kronholm have since left Indonesia.
At the other end of Indonesia on May 10, it was reported that six Japanese media workers had been arrested in Wamena in Papua. They had been working on a documentary video of the indigenous tribes Mamuna and Korowai in southeast Papua. Two Indonesia guides who were working with the group were also arrested but subsequently released. The six Japanese media workers were detained for 24 hours and then on May 11 they were released and ordered to leave Indonesia immediately.
The deportation of the journalists from Papua comes after the announcement by Indonesian President Joko Widodo in 2015 that Indonesia, including Papua and West Papua, were open to the media.
AJI president, Suwarjono, said: "The expulsion of the eight foreign journalists shows that Indonesia is not yet thoroughly accessible for journalism activities, particularly for foreign journalists. Government mechanisms, such as the 'clearing houses' are working to limit the number of journalists reporting from the country, and what is most concerning is the limited transparency of the 'clearing house' process. These processes are creating situations where information is withheld and thus journalists have to seek other avenues for information."
The IFJ said: "The IFJ and AJI have long advocated for Indonesia to guarantee press freedom across the country for both local and foreign journalists. The comments by President Widodo that Papua would be open to the press provided hope for change in Indonesia, yet we are yet to see the supporting action." – IFJ media release/Image: Pinterest