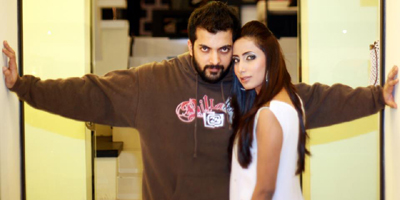 JournalismPakistan.com August 18, 2012 By Chatterbox

The problem with fashion photography is that everything is fake… from the models' make up to the lighting to the final product, but news photography is the genuine thing; often you never know what the subject or focus of your lens is going to be until the very last moment, sometimes even less. You click and the photograph is a news portrait, a story in itself… sometimes much, much more," muses 25-year-old Waqas Sidddiq about his obvious preference.
That does not mean Waqas is not a good fashion photographer or does not enjoy that genre of work. "It has its own charm. Its glamorous, colorful, exciting… you get to meet some really enterprising and outspoken people, some really talented ones too…" he breaks off with a disarming grin.
"It's just that the challenge of news photography is much more. You have to come up with good photographs day in and day out. Nothing is fixed; it's all happening and if you blink, you've missed your opportunity and photograph…. Phitttttttt… it's gone."
So what pulled him towards photography in the first place? I reminded him that news photographers were not necessarily paid well, unless of course one happened to be working for an international news agency or donor agency or happened to be freelancing big time.
"It's my passion. Has always been," he replies emphatically. "I was 15 years old and still in school when I got hooked. I found time away from my studies to learn the intricacies and techniques of better photography… how to focus, how to get the perfect frame, how to be patient, how to manipulate the light etc… it's not something you pick up in a day."
His eyes dart away for a moment, a reflective look flits briefly, "People always asked me what I wanted to be and I always wanted to be a photographer… now that does not make sense to most. You hear people say they want to be a doctor or a diplomat, an army officer or whatever. But I wanted to be a photographer; actually a fashion photographer."
Nothing wrong with that of course, but for young Waqas it was a torturous decision as it meant looking at alternative better paying professions while trying to dismiss something about which he was undoubtedly very passionate.
"I'm the youngest in my family and therefore certain responsibilities fall on me. I wanted to be independent and responsible and do something worthwhile on par with my older siblings… I did not want to rely on them. I had to make my own way… it was a majboori too. I wanted to earn for my parents just as my siblings."
"So you took to taking photographs of dogs, crows, beggars and the sun setting on the last day of the year," I interjected teasingly.
For a moment he was taken back, "So you heard of that…" he said, shaking his head in embarrassment.
"Maybe I did… but what's your version?"
"Perhaps I was lacking motivation or direction back then," he says referring to his job as a news photographer at the now defunct Dateline Islamabad, "But over a 10-day period in 2009, when the newspaper had not yet been launched, I thought I did a pretty good job, clicking some rather interesting shots of a crows flying, a beggar sleeping and a street dog…"
"And…?"
"The editor was not happy. The city editor was not happy and the chief executive of the newspaper was furious; he wanted to sack me. I got an earful. They told me those were not news photos. It was very depressing," Waqas recalled rather mournfully, "But I learned a good lesson that day… never take things for granted."
I grinned. "So coming back to your younger days, were you inspired by somebody or something? Where did you learn how to take better photographs and pick up the tricks of the trade?"
"That's more than one question?" he informs me with a straight face. So this guy has a wry sense of humor as well. Okay.
"I said before I wanted to be a fashion photographer, but it's a field with few opportunities and even less money, so I ended up being a photojournalist and par-time fashion photographer. When I started out I was not inspired by any particular individual's work, rather there were multifarious sources of inspiration; National Geographic and Discovery being at the very top. There were plenty of fashion and current affairs magazines too… Vogue, Fashion, Cosmopolitan, Elle, Bazaar, Newsweek, Life and Time… all of these formed opinions differently."
But learning the trade was not easy and Waqas discovered it meant a lot more than pressing down on the shutter button. He credits a certain Jahangir aka Guddu Bhai for teaching him the basics before picking up a lot more from the likes of Khawar Riaz, whom Waqas rates as the best fashion photographer he has known, and then Irshad Sheikh of APP, S M Sohail of Online and Irfan Mehmmod of APP as the other defining authors of his current skills.
But before he entered the clamor of the newsroom and the media, Waqas was a fashion photographer first and foremost. Indeed, he was more than that; he was a model and a pretty good one too.
"Yeah, I did some modeling, enjoyed it too, "he drawls, but I enjoyed taking photographs of them more. I liked to look at my work and derive satisfaction from the images."
He informs me that he also worked with some super models and got super shots of them on the ramp and these had found their way into their portfolios. Sohail Sammer, Rizwan Haider, Natasha (Natty), Sunita Marshal, Rachel, Rubab, Maha, Fauzia , and Goher Mumtaz of the Jal fame… he rattles off their names.
"I really enjoyed the end result of my photographic labors with the band Jal, Rahet Fateh Ali, Ali Azmat, Overload, Noori, Qurat Al Ain, Arieb Azhar… Atif Aslam," he says, trying to put things into perspective without sounding like showing off.
I asked him if he worked out to keep fit and if he had a diet regimen that he adhered to stay fit and trim as he did. "Nope," came back the answer, "I'm basically a Lahori boy and I love my food. But I do work extra hard and maybe the fat never gets a chance to latch on."
"So what is your favorite food then Lahori boy?"
"Dumba namkeen karahi," pat came the answer without batting an eyelid.
And sorry to detract a bit, but the word 'dumba" set off an image of a certain chief reporter I used to know. Imagine his shock, one day, when he arrived at his car to see somebody had sat a fat sheep on the driver's seat, belted in and all. It was the day before Eid ul Azha. The eventual owner was found, expressed surprise, and took the 'dumba' away. A fast get away was prevented.
Now back to Waqas, "Not just any dumba karahi," he stresses, "It has to be Shinwari's dumba karahi." Moral of the story: Eat hard, then work hard.
"Ok," I say resignedly, "So what have you learned then from your jobs in Online and the Dateline?"
"Very disappointing," he says, looking me right in the eye. "The seniors do not want to teach you anything, there's no guidance but plenty of criticism and…" he pauses thoughtfully, "sometimes I wonder if some of them actually do know anything."
And on that note I end.