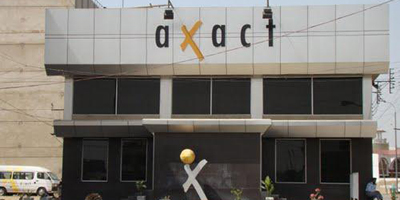 JournalismPakistan.com May 18, 2015
ISLAMABAD: Software company Axact has blamed the Express Media Group for having a damaging story published in The New York Times Monday against them which unearths an alleged fake degrees operation.

"It is clarified that NYT in Pakistan is partnered with Express Media Group to publish International NYT in Pakistan and receive earnings from the group. Express Group was under a restraining order and contempt of court proceedings by Sind High Court for publishing a defamatory news item and further from publishing anything detrimental to Axact's reputation. Hence Express Media Group to counter the success of BOL and to circumvent the court order has got this story published via its partner NYT in collaboration with some reporter called Declan Walsh," Axact said in their official response.

Axact, whose founder and CEO Shoaib Ahmed Shaikh is on the verge of launching BOL, Pakistan's biggest media network, condemned the NYT story as "baseless, substandard, maligning, defamatory and based on false accusations and merely a figment of imagination published without taking the company's point of view."

Axact said they will be pursuing strict legal action against the publications and those involved. In their response, published on axact.com, Axact pointed out that it should also be noted that a few months back in a registered criminal case by Axact for data theft (Criminal case No.561/2015), police investigations led to Mr. Sultan Lakhani as the ultimate hidden owner of that company involved in data theft of Axact and other IT companies and his name was included in the interim police challan.

"The story is authored by some reporter Declan Walsh of NYT who was expelled from Pakistan as persona non-grata by Pakistan Interior Ministry allegedly due to his involvement in damaging Pakistan's national interests. This reporter has worked and devised a one-sided story without taking any input from the company. A last-minute, haphazard elusive email was sent to the company demanding an immediate response by the next day to which the attorney for Axact responded. Click here to view the response."
Axact said that Declan Walsh has not mentioned the conflict of interest which the NYT has due to its association with Express Media as its revenue source in Pakistan. This necessary disclosure regarding the criminal cases on NYT partner in Pakistan was deliberately omitted and is an injustice to the reader not expected of a publication like NYT.

"In an exemplary display of poor journalistic skills and yellow journalism, the writer quoted references from several imaginary employees to corroborate accusations made out of thin air. None of these accusations have been substantiated with any real proof. Search engines have been used to type 'fake degrees' and whatever images have turned up have been portrayed as evidence. Additionally, no proof has been given linking any of these sites and allegations to Axact and widely recognized names such as that of John Kerry have been used to increase the impact of the story. In fact the writer himself admits that when he approached these universities, they denied having any links with Axact."

Axact also names Jang-Geo Group in their response. "From the very first day of announcement of BOL, certain elements have started campaigning against Axact and BOL. The GEO/Jang group and Express Media Group being direct competitors of BOL (brought by Axact) have started a defamation campaign and other criminal pursuits since last 2 years accusing BOL of belonging to multiple groups, sometimes establishment, sometimes a real estate tycoon and sometimes other controversial personalities and were coining all kind of conspiracy theories. Now they have planned this story in collaboration with this reporter as evident from the fact that within less than 60 seconds of the publishing of this article, these media outlets started spreading this maligning campaign via different means. It is also come to our notice that they are planning with other foreign media groups to publish this story with different angles."
Read the full Axact repsonse here