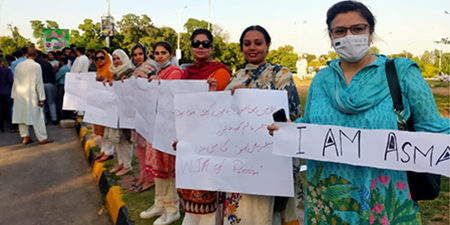 JournalismPakistan.com June 26, 2021


ISLAMABAD— Women journalists from different parts of the country on Saturday called for a gender audit in media houses and other decision-making bodies.
The demand came during a protest organized by Women Journalists Association of Pakistan. The protesters demanded that the government press media owners to pay all pending wages of women journalists and reinstate those who lost their jobs during the current media crisis.
They also called for provision of basic facilities to women journalists at workplaces. They said that majority of them had lost their jobs but the financial losses suffered by women journalists were ignored by media houses.
They suggested making necessary amendment to the law to ensure at least 33 percent women in any media organization. They suggested that no license or declaration be issued to any newspaper or channel unless they employed at least 33 percent women.
They demanded a special desk to deal with online harassment cases of women journalists in the Federal Investigation Agency's Cyber Crime Cell. Besides that, they suggested that social media cells of all political parties be registered with the Election Commission of Pakistan and a code of conduct devised for such cells.
The protesters also called for establishment of sexual harassment complaint committees in every media house, union offices, and press clubs under the Protection against Harassment of Women at Workplace Act, 2010
They demanded transport facilities, strict implementation of the law on paid three-month maternity leave for women employees, and equality in pay structure, beat distribution, and exposure opportunities. They asked for insurance at par with their male colleagues, 10 percent quota in working women hostels, welfare schemes and free healthcare for senior female journalists and provision of easy house and car loans.
Convener for Women Journalists Association, Fauzia Kalsoom Rana said that government should immediately appoint chairperson of the Implementation Tribunal for Newspaper Employees (ITNE) as many cases of media persons remained pending.