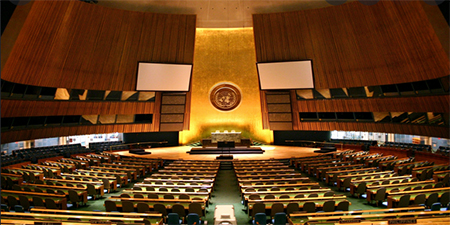 JournalismPakistan.com December 28, 2021


NEW YORK - The United Nations General Assembly (UNGA) has unanimously adopted a resolution sponsored by Pakistan, calling all member countries for a multidimensional response to counter all forms of disinformation, APP reported.
Titled "Countering Disinformation for the Promotion and Protection of Human Rights and Fundamental Freedoms," the resolution affirms the responsibility of states to counter the dissemination of disinformation which undermines the promotion of peace and cooperation among states as a consequence of disinformation campaigns directed against states and nations.
It further emphasizes the responsibility of media houses, including online platforms and social media companies, to ensure that their commercial objectives do not undermine human rights.
The resolution was the outcome of extensive consultations with all member states against the backdrop of the exponential proliferation of disinformation around the world, which is exacerbating social discord, competing nationalisms, an infodemic amid the pandemic, discrimination, hate speech, stigmatization, racism, xenophobia, Islamophobia and related intolerances.
It was recommended by the 193-member assembly's Third Committee, which deals with social, humanitarian, and cultural issues.