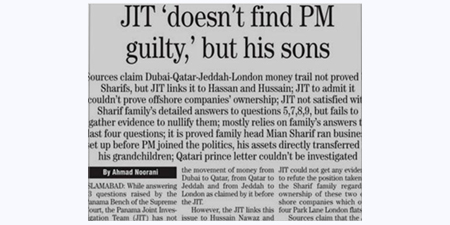 JournalismPakistan.com July 12, 2017


ISLAMABAD –The News reporter who filed an incorrect story on the Joint Investigation Team (JIT) report has apologized to readers.
"The most critical and newsworthy part of my story that 'Prime Minister Nawaz Sharif is not held responsible for any wrongdoing' proved completely wrong," reporter Ahmad Noorani said in a front page apology published Wednesday.
Noorani's story titled - Panama JIT 'doesn't find PM guilty,' but his sons – was published Monday, the day the JIT submitted its report to the Supreme Court.
The team probed Prime Minister Nawaz Sharif and his family for money laundering and its report had damning findings against the Sharifs.
The Supreme Court issued a contempt notice to The News over the story.
Noorani said Monday was an embarrassing day for him. "What I reported proved wrong. As a professional journalist, I do understand that the story has hurt my readers as well as my own credibility, besides denting the repute of the newspaper, which has otherwise a long list of exclusive stories and scoops. I apologise to my readers, my colleagues and my management."
He said he "made all possible efforts to cross-check the information" but it proved wrong. "I have been closely following the Panama case and the JIT since the very beginning, and reported many exclusive stories on the basis of documentary evidences which proved correct."
Noorani also spoke about the vilification campaign launched against him and the Jang Group, especially on social media soon after the findings of the report were made public.
"I was accused of deliberately filing a false story to please the prime minister and his family ignoring the fact that I did clearly write that the Sharifs failed to prove the money trail. It is ridiculous and absurd to suggest that any such report, which is going to be proven wrong within a few hours, will be 'made up' simply to support the Sharif family."
He thanked his colleagues and friends for the support extended to him "in this difficult time. Human beings make errors and I am no exception."
Meanwhile an editor's note published alongside Noorani's apology said "the story on reflection was not entirely correct."
The note said that prior to the publication of the said story the editorial team questioned the team thoroughly and exhaustively about the veracity of the story. "The team was satisfied with his replies and took into consideration his excellent track record before the story was allowed to be published.
"The Group is always ready to acknowledge a mistake when it occurs…in keeping with this tradition the organization apologizes the publication of the said story."