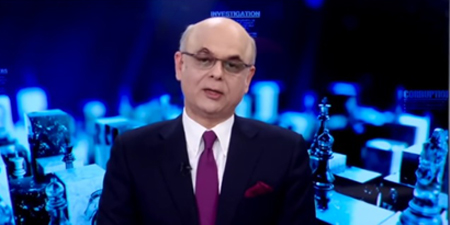 JournalismPakistan.com September 05, 2019


ISLAMABAD — Some television anchors have appreciated and at the same time taken credit for forcing the hand of the PTI government in withdrawing the ordinance promulgated last week offering Rs210 billion financial amnesty to big businesses.
Mohammad Mallick (pictured), head of Hum News, took credit for working hard against the promulgation of the ordinance. He also patted other anchors on the back for supporting his cause.
"GIDC ordinance withdrawn by PM IK. Couldn't be happier cause worked hard against it along with friends like amir mateen, Kashif Abbassi , Rauf klasra and Arshad sharif. Now PM IK must also review the performance of key people who 'almost'put his neck in a future nab ref. Thx PM!"
Amir Mateen, one of the hosts on AAP TV's Muqbil program, also welcomed the government decision and appreciated the prime minister. "Kudos to @ImranKhanPTI for withdrawing faulty Ordinance. This makes him look taller. Even great people can make mistakes but it's only fools who get stuck with them. Hopefully he takes those people to task who misled him so mistakes are not repeated.Thanks PM."
Rauf Klasra echoed the views of Mateen. "Lets appreciate PM IK for scrapping controversial ordinance (ref Rs300bn). But multi million dollar question is why IK has assumed Govt may lose case in supreme court of Pakistan? Will judges give verdict against Pakistani taxpayers and benefit tycoons?"
ARY News presenter Arshad Sharif appreciated the withdrawal of the ordinance but asked the prime minister to go after advisors who misled him. "Good decision by PM @ImranKhanPTI to reverse the decision of Rs300 Billion #GIDC payments. The advisors/lobbyists of corporate mafia in Cabinet who supported the illegality stand exposed. Credit to original #PTI ministers for standing up for principles."
However, not everybody is happy.
Dawn, in its editorial, has questioned the leadership of the prime minister on this issue, and harshly criticized his statement of the ordinance withdrawal. Commenting on the episode, Dawn maintained: "In short, we now have an even bigger mess on our hands, because the government's weakness has been exposed and those contesting the cess in the courts have smelled blood."