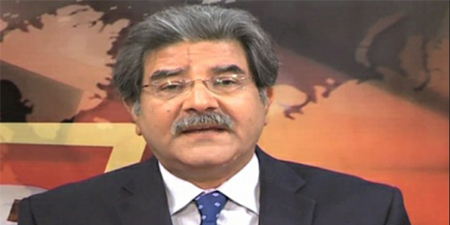 JournalismPakistan.com June 22, 2017


ISLAMABAD - ARY talk show host Sami Abraham (pictured) Thursday termed the offer of Jang investigation team led by Ansar Abbasi to present itself for accountability "another plot to stay in the news…".
In his story – Jang Group investigation team presents itself for accountability – Ansar Abbasi maintained that his recent WhatsApp story was being presented as an effort to target the Supreme Court and the JIT probing the money laundering allegations against the Sharif family and that it has been done at the behest of government.
Sami's tweet said the offer was to "create diversions", asking Abbasi to "grow up and stop playing idiotic tricks."
While making the offer on June 21, Abbasi had tweeted: "Stop shooting the messenger!"
However, Hamid Mir in an interview on Geo News claimed the same story was brought to him by a senior PML-N minister, but he raised the issue of timing and also asked for documentary evidence.
"When I started to investigate this issue on my own, there were two versions in State Bank and SECP. I remained quiet on this issue because this was a very sensitive issue…and in the meanwhile we have Ansar Abbasi's story."
He added now if an inquiry was held into the WhatsApp story, it had to be seen which government personality was involved. "If an inquiry committee calls me, I will tell who discussed this issue with me…."
But Mir made it clear he was not saying that Abbasi's story was wrong. "I am only saying the story has been brought out after one month. Look at the timing…after Hussain Nawaz's objections were rejected, there was activity from the government."
Mir claimed that the same information was shared with other journalists also. "Ansar Abbasi in his story also talks about government sources. My question is regarding the timing of the story. The government shared the story after the SC rejected the objections of Hussain Nawaz."